Wagner boss expresses 'joy' over Victoria Nuland
The mere mention of the Wagner PMC has caused the US to consider recognizing the new government in Niger, Evgeny Prigozhin has said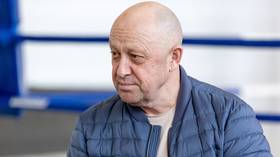 Wagner chief Evgeny Prigozhin says he is proud of the members of his private military company as simply mentioning their name can compel Washington to reassess its positions. Acting US Deputy Secretary of State Victoria Nuland recently urged Niger's new military government not to enlist the help of the Russian contractors.
Speaking to journalists over the phone on Tuesday, Prigozhin was asked to comment on Nuland's personal visit to Niger and her advice to the new government not to strike any deals with Wagner.
"I am proud of the boys from Wagner," replied Prigozhin. "Just the thought of them makes ISIS and Al Qaeda small, obedient, silky boys. And the US has recognized a government that it did not recognize yesterday just to avoid meeting the Wagner PMC in the country."
"This brings joy, Mrs. Nuland," he quipped.
One of the members of the new military government in Niger, Gen. Salifou Moody, reportedly sought the assistance of Wagner to help safeguard their power. The coup leaders are currently facing an approaching deadline to either return ousted president Mohamed Bazoum to power or face a possible military intervention by neighboring states.
On Monday, Nuland, who played a role in the events leading up to the Western-backed coup in Ukraine in 2014, revealed that she had personally met with Niger's current defense chief Moussa Barmou and three other senior commanders to urge them to restore the constitutional order in the country.
The US official also claims to have warned Barmou against enlisting the help of the Russian PMC, suggesting that Prigozhin's group is a "threat to those countries where it is present."
Niger's new leaders, however, have apparently refrained from making any firm commitments on the issue.
Moscow, meanwhile, says it opposes any foreign interference in the situation in Niger, arguing that it would most likely fail to change the situation for the better. Kremlin spokesperson Dmitry Peskov has expressed hope that the turbulent country will soon return to "constitutional normality."
You can share this story on social media: