No more US if Trump regains presidency – Pelosi
The Democratic representative had previously called Trump a "scared puppy" following his latest indictment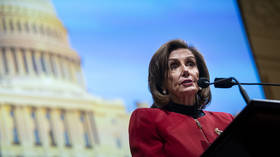 The US will cease to exist if former President Donald Trump returns to the White House, former House Speaker Nancy Pelosi warned New York Magazine on Monday.
"Don't even think of that," Pelosi implored the reporter who asked her about the possibility of Trump becoming president again. "Don't think of the world being on fire. It cannot happen, or we will not be the United States of America," she insisted.
"If he were to be president, it would be a criminal enterprise in the White House," the ex-speaker told the publication.
Pelosi congratulated herself extensively on predicting that Trump would act out following his loss in 2020, taking credit for the idea of the January 6 Commission that was established following the Capitol riot to investigate the extent of the ex-president's guilt in the matter.
"I know he committed a crime that day," she said of Trump and January 6, boasting that she had known as soon as the riot unfolded that the former president was to blame for the day's events even while acknowledging she could not predict "what can be proven" in court.
The Democrat's comments followed Trump's post on his Truth Social platform calling her a "sick & demented psycho who will someday live in HELL." Pelosi had described him as a "scared puppy" during his television appearance following his indictment on multiple conspiracy charges related to his challenging the 2020 election results, charges she described to New York as "beautiful and intricate" with "a better chance of conviction than anything that I would come up with."
Speaking for many of the former president's supporters, Senator Ted Cruz (R-Texas) warned last week that there was a "very real possibility that Donald Trump ends up being convicted," pointing out that "the facts don't matter, the laws don't matter: they hate him." Noting that the judge assigned to the case, Tanya Chutkan, has dealt out sentences to January 6 defendants that were even more extreme than those requested by prosecutors, Cruz warned the US had "entered banana republic territory."
Pelosi and her husband's combined net worth is believed to exceed $200 million, despite an annual salary that never exceeded $223,500 when she was House speaker. Many, including House Republicans, have accused her of attaining that wealth by leveraging insider information through her husband's stock trades – especially after a single trade netted the couple $5.3 million ahead of a critical vote by the House Judiciary Committee in 2021.
You can share this story on social media: