Washington approves first Abrams tank delivery to Kiev
The US-made heavy armor is due to arrive in Ukraine by early autumn, the Pentagon has said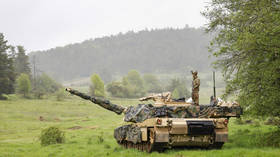 Kiev will receive its first batch of US-made Abrams tanks by early autumn, a senior Pentagon official told journalists on Monday. President Joe Biden initially promised the heavy equipment to Ukraine in January.
The tanks are ready for delivery, US Army Acquisition Chief Doug Bush told a news briefing. The equipment pieces still have to first "get to Europe, and then to Ukraine, along with all of the things that go with them," he added, as cited by CNN.
Washington plans to provide the Ukrainian forces with ammunition, spare parts, and fuel equipment for the tanks, which are all to be sent within the same delivery, Bush said. "So you know, it's not just the tanks, it's the full package that goes with it. That's still on track," he added.
The US has pledged a total of 31 tanks, or the equivalent of a Ukrainian battalion. In late July, Politico reported that only between six and eight heavy equipment pieces might make it to Ukraine by September.
According to Western media outlets, the US military began training Ukrainian tank crews on Abrams vehicles in Germany in May. The ten-week training course should wrap up in August, a Pentagon official told reporters.
Originally, the Pentagon intended to use the more modern M1A2 variants, but changed its plans in March, opting for the older M1A1. Newsweek and Politico previously reported that the US-made tanks are to be stripped of any "sensitive" technology first before they can be handed over to Kiev.
The tanks might "lose some of their most sophisticated electronics before seeing combat in Ukraine," according to Newsweek. The advanced equipment, which is due to be removed, reportedly includes systems that offer "some advantages" to the gunner and the commander, as well as depleted uranium armor.
Washington has already supplied Kiev with around half of the 190 promised Bradley infantry fighting vehicles (IFV). Many of them have since been destroyed or captured by Russian forces during a largely unsuccessful Ukrainian counteroffensive that was launched in early June.
You can share this story on social media: