US to give Ukraine Abrams tanks without 'sensitive technology' – media
The tanks that Washington plans to send to Kiev will first be stripped of modern armor and electronics, Western outlets have reported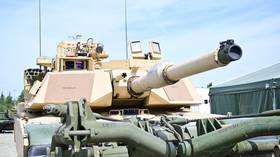 The US-made Abrams tanks that Washington promised to Kiev might arrive in Ukraine without some of their advanced equipment, several Western news media outlets have reported. Such components are reportedly considered too "sensitive" and too "sophisticated" to be handed over to the Ukrainian military.
The tanks might "lose some of their most sophisticated electronics before seeing combat in Ukraine," Newsweek reported on Monday. The US tanks are deemed to be more "complicated platforms" than other Western heavy armor and operating them would require additional training, the outlet said.
For the Ukrainians to receive them as early as this fall, the tanks' equipment might be downgraded to ensure they can be used by Kiev's forces. "A simpler variant is better suited given the time constraints," Marina Miron, a post-doctoral researcher in the Department of War Studies at King's College London, told the media outlet.
Kiev is set to receive the older M1A1 Abrams tank, which has less advanced electronics than its successor, the M1A2, Newsweek noted. The M1A2's electronics offer "some advantages" to the gunner and the commander, it added. Yet, according to Miron, that also makes these tanks more difficult to maintain and operate on the battlefield.
"The systems are more complex and require more training and sustainment," she said, calling the M1A1 a "better choice" for Ukraine.
Last week, Politico reported that the US might supply the first six to eight tanks out of a battalion promised by the White House in September. The outlet also claimed that "the older vehicles are being stripped of their most sensitive technology, including in some cases secret depleted uranium armor, before they can be sent to Ukraine."
Originally, the Pentagon sought to send the more modern M1A2 variants to Ukraine, but changed its plans in March and opted for the older M1A1. According to earlier media reports, the list of "sensitive" technologies Kiev will not be allowed to get its hands on also includes the tanks' fire control systems. The US reportedly fears they might be captured by Russia.
Washington has already supplied Kiev with around half of the 190 promised Bradley infantry fighting vehicles (IFV). Many of them have been destroyed or captured by Russian forces during a largely unsuccessful Ukrainian counteroffensive that was launched in early June. Ukrainian troops reportedly cannibalized the damaged American IFVs for parts.
You can share this story on social media: