Large explosion hits Turkish port (VIDEOS)
The blast injured 10 people and destroyed a bank of grain silos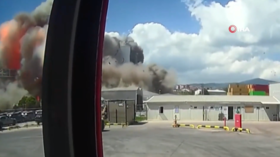 At least 10 people have been injured in an explosion at the port of Derince in Türkiye, the region's governor told local media. The blast was caught on video, and described by witnesses as like a "violent earthquake."
The explosion occurred in mid-afternoon on Monday, with Derince mayor Zeki Aygün telling local media that it originated at a block of government-owned grain silos and felt "like a violent earthquake." Kocaeli Governor Seddar Yavuz said that 10 people were injured, with two in serious condition at a nearby hospital.
Security camera footage captured the moment of the blast, which scattered debris across a nearby goods yard. Video shot from further away showed a cloud of smoke and dust rising over the port after the blast.
Situated around 90 kilometers (55 miles) east of Istanbul in the province of Kocaeli, Derince is one of the few seaports in Türkiye wholly operated by the government. Derince is a grain transportation hub, and received regular shipments of grain from Ukraine, until the Black Sea grain deal expired last month.
Yavuz said that the explosion took place as grain was being transferred from a ship to a silo, and could have been caused by "wheat dust compression." According to live data from MarineTraffic.com, a Marshall Islands-flagged transport ship is currently moored next to the silos.
13 out of 16 silos at the port were damaged in the blast, provincial authorities said. Emergency services are still working at the scene, and police have launched an investigation into the incident.
You can share this story on social media: