Niger junta recalls envoys
The mandates of diplomats, some of whom openly supported the country's deposed president, have been declared void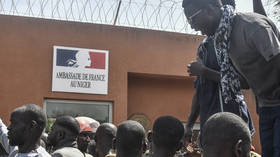 Niger's military junta has revoked the mandates of four of its diplomatic representatives following a palace coup last week.
The self-appointed government led by General Abdourahamane Tchiani declared on Thursday evening that the authority of diplomats representing the country in France, Nigeria, Togo and the United States had been "terminated."
Forces loyal to Tchiani, the long-serving head of the presidential guard, arrested President Mohamed Bazoum and other government officials to seize power in the West African country last week.
"The junta should come to reason, realize that this affair cannot succeed, and prevent useless, inevitable suffering for our people and hand back power," Kiari Liman-Tinguiri, Niger's ambassador in Washington, told AFP. He added that he considers Bazoum the legitimate head of state.
The ousted president penned an article in the the Washington Post on Thursday, urging the US government to act. He described Niger with him in power as the last bulwark against Russian influence in the Sahel region.
The putschists are reportedly playing on local anti-Western sentiment and have announced that they were scrapping agreements with the US and France, under which the two nations retain a total of 2,500 troops in Niger. The poor African nation is rich in mineral resources, and has some of the world's largest reserves of uranium.
The junta has also reiterated warnings against "aggression or attempted aggression" by the Economic Community of West African States (ECOWAS). The 15-country regional bloc issued an ultimatum last week, demanding that Bazoum be reinstated and warning that member states may otherwise use force.
The participation of some ECOWAS members, including Niger, was recently suspended. The junta has indicated that it considers neighboring Burkina Faso and Mali, which were also penalized, to be friendly nations.
An ECOWAS delegation visited Niger's capital Niamey this week to negotiate a possible resolution of the crisis. According to local media, the talks failed on Thursday.
You can share this story on social media: