Activist torches another Quran in Sweden
The demonstration drew a handful of counter-protesters, who urged for an end to burnings of the holy book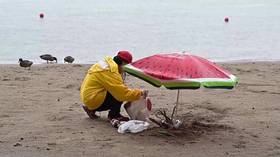 A woman has set fire to a copy of the Quran during a police-approved protest near the Swedish capital, the TASS news agency has reported.
The move follows several similar actions in recent weeks, which have triggered outrage across the Muslim world and beyond.
Organized by Iranian immigrant Bahrami Marjan, the Quran-burning took place on a beach near Stockholm on Thursday, according to the Russian outlet, which noted that of the 20 people that attended most were journalists.
In footage captured by Ruptly, Marjan can be seen setting fire to the holy book, scrawling on the Quran with a pen before tearing off pages and burning them gradually. At one point, police appeared to restrain a small group of counter-protesters objecting to the display, though the scene ultimately remained calm.
A Christian convert from Islam, the woman told TASS she wanted to show that "religion is also part of politics," also stating "Islam is not a democratic religion." Asked whether she thought such book-burnings might harm Sweden's security situation given the potential for backlash, Marjan said she did not agree.
The demonstration mirrors other stunts staged in Stockholm this summer, with activists burning or otherwise desecrating Qurans during three prior police-authorized actions in June and July, two of which were held outside the Iraqi Embassy.
The incidents have sparked a public outcry in the Muslim world, with angry protesters storming Sweden's diplomatic compound in Baghdad. The Iraqi government also expelled Stockholm's envoy and recalled its own representative, while Türkiye, Egypt, Algeria, Morocco, the United Arab Emirates and Jordan similarly condemned the move.
Swedish officials have argued that the protests are not formally approved by the government, with Prime Minister Ulf Kristersson insisting that local police merely issue permits for public gatherings regardless of their political content. The premier went on to blame a Russian "disinformation campaign" for the harsh reaction to the Quran-burnings, alleging that Moscow is "spreading the false claim that Sweden as a state would be behind the desecration of various scriptures."
Russian President Vladimir Putin has described the attacks on the Quran as hate crimes that would not be tolerated in Russia, while a group of Russian MPs issued a joint statement declaring that such actions have "nothing to do with freedom of speech and religion."
You can share this story on social media: