Trump laments 'sad day for America'
The former US president has claimed the latest indictment against him amounts to "persecution of a political opponent"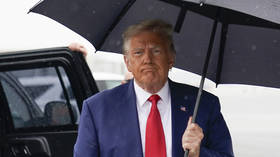 Donald Trump has claimed that politically motivated US prosecutors have launched yet another case against him – the third in four months – because President Joe Biden can't beat him in the 2024 election.
"This is a very sad day for America," Trump told reporters on Thursday after pleading not guilty to four felony charges stemming from his alleged effort to overturn Biden's 2020 election victory. His court appearance also marked his return to Washington, which he said is now marred by "filth and decay." He added, "This is not the place that I left. It's a very sad thing to see."
Trump already faced a federal indictment related to his alleged mishandling of classified documents, as well as a New York City case in which he was charged in April with making false statements on his business records. He is the first US president to be criminally charged after leaving office.
Trump pointed to 2024 election polling as motivation for the indictments against him. "This is a persecution of a political opponent," he said before boarding his plane to leave Washington.
"This was never supposed to happen in America," he added. "This is the persecution of the person that's leading by very, very substantial numbers in the Republican primary and leading Biden by a lot, so if you can't beat him, you persecute him or you prosecute him. We can't let this happen in America."
You can share this story on social media: