Trump pleads 'not guilty'
Special counsel Jack Smith did not seek pretrial detention in the latest round of charges against the ex-president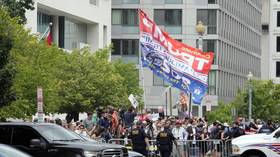 Former US president Donald Trump pleaded not guilty to four felony charges related to his contesting the 2020 election results on Thursday.
The former president, joined by his attorneys in a Washington DC courtroom, pleaded not guilty to all charges before US Magistrate Judge Moxila Upadhyaya. He faces a maximum of 20 years in prison.
Trump was indicted on Tuesday on charges of conspiracy to defraud the United States, conspiracy to obstruct an official proceeding, obstruction of and attempt to obstruct an official proceeding, and conspiracy against rights.
While he was briefly placed in custody pending his arraignment in keeping with standard courtroom procedures, Trump will not be held awaiting trial on this week's charges, under conditions that include not communicating with anyone known to be a witness in the case except through an attorney.
The case, which centers on Trump's actions immediately following the 2020 presidential election and specifically the January 6 Capitol riot, has been assigned to District Judge Tanya Chutkan, who has presided over dozens of cases against January 6 defendants and in many of them handed down harsher sentences than prosecutors sought.
Supporters of the former president have expressed concern he will not receive a fair trial, given Chutkan's outspoken insistence as to his alleged complicity in the violence at the Capitol.
Trump became the first former US president ever to be federally indicted earlier this year when he was charged with 37 felony counts related to the alleged mishandling of classified government documents stored at his Mar-a-Lago estate in Florida. He was previously indicted in Manhattan district court on 34 counts of falsifying business records related to allegedly paying hush money to porn star Stormy Daniels. Trump has pleaded not guilty to all charges.
Earlier this week, Trump accused his Democratic opponents of seeking to lock him up for "six lifetimes," noting that the combined prison sentences from all the charges against him amounted to 561 years. The indictments have only cemented the Republican candidate's lead over Republican challengers in the polls.
You can share this story on social media: