Man crashes stolen forklift into Apple store (VIDEO)
Los Angeles police arrested a suspect following a bizarre rampage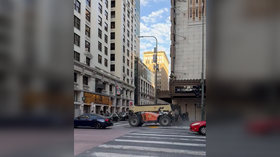 An unidentified man hijacked a forklift from a construction site and took it on a wild ride through downtown Los Angeles, crashing into multiple buildings, including an Apple store in the historic Tower Theatre.
The incident took place around 7pm on Tuesday. Part of the rampage was captured on video, with eyewitnesses saying the male suspect apparently stole the vehicle from a building site near 8th Street and Broadway.
The suspect first crashed into the Apple Tower Theatre on 802 South Broadway and then tried to flee the scene with the lift truck's horn blaring, according to dramatic footage shared on X (formerly Twitter).
The vehicle then drove down 8th Street toward Hill Street, before crashing into another building, where the driver was eventually detained.
Another video shows a smashed entrance to the building, but the full extent of the damage was not immediately clear. There were no reports of injuries.
The Los Angeles Police Department confirmed it had one suspect in custody, but his identity has not been released and his motives remain unclear.
You can share this story on social media: