Poland warns about state of relations with Ukraine
Warsaw will back Kiev, but not at the expense of its own interests, its deputy foreign minister has said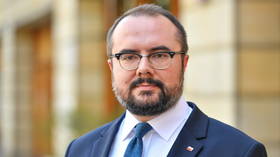 Reconciliation between Warsaw and Kiev is "impossible" without the latter's recognition that the WWII mass murder of ethnic Poles in Volhynia by Ukrainian nationalists was a genocide, Deputy Foreign Minister Pawel Jablonski said on Wednesday.
Relations between the neighbors are "unfortunately not the best" at the moment, "due to recent statements by some of the Ukrainian authorities," Jablonski told the Polish broadcaster RMF24. Poland understands the "emotions" that arose because Ukraine is "under attack," he added, "but it should not attack its allies, either."
"We support Ukraine to the extent that it meets the national interests of Poland. So it has always been and always will be," said Jablonski.
While there are "many issues" on which Warsaw and Kiev disagree, the WWII-era massacre is by far the biggest problem. The Polish government classifies the murder of up to 60,000 ethnic Poles by Stepan Bandera's Ukrainian Insurgent Army (UPA) in 1943-44 as a genocide, and has pressed Ukraine to allow exhumations, commemorations and prosecution of those responsible. In Kiev, however, Bandera is a national hero.
"There is no possibility of real Polish-Ukrainian reconciliation without settling this issue," the minister insisted.
Poland has been the hub of NATO efforts to supply Ukraine with weapons, ammunition and equipment. It has also joined the push by six eastern EU members to block the sale of Ukrainian agricultural exports at below-market prices, under pressure from disaffected farmers.
Responding to Ukrainian criticism of the ban earlier this week, the Polish president's foreign policy adviser, Marcin Przydacz, said Kiev should instead "start appreciating the role that Poland has played for Ukraine in recent months and years."
Ukraine's foreign ministry responded by summoning the Polish ambassador to protest that Przydacz's statement was "untrue and unacceptable." Ukrainian President Vladimir Zelensky's deputy head of office, Andrey Sibiga, posted on social media that "There's nothing worse than your rescuer demanding a rescue fee from you, even as you're bleeding."
Polish PM Mateusz Morawiecki called Ukraine's move a serious mistake, and vowed that "the interest of no other country will ever prevail over the interest of Poland." Zelensky has sought to cool the tensions, arguing that the two countries are "a real shield of Europe from sea to sea" and that this shield cannot bear "a single crack."
You can share this story on social media: