Brazil sets terms for BRICS expansion – Reuters
The country wants the club to grow slowly in order to maintain cohesion and regional balance, sources told the news outlet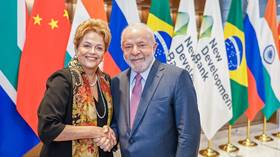 Brazil is concerned that a rapid expansion of the BRICS group, of which it is a founding member, would destabilize the organization and diminish the roles of current member states, government sources have told Reuters.
"An expansion could transform the bloc into something else," an anonymous Brazilian official was quoted by the news agency on Wednesday as saying. "Brazil's position has been concerned with the cohesion of the group and preservation of our space in a group of important countries."
BRICS currently includes Brazil, Russia, India, China, and South Africa, with the latter joining the original four members in 2010. The club touts itself as counterbalancing global Western influence as the world transitions to a multipolar political order.
It currently accounts for around 40% of the global population and nearly a quarter of its economy, and is developing alternatives to currently dominant international financial institutions, such as the International Monetary Fund and World Bank.
Dozens of nations have announced their interest in joining BRICS, with Bolivia being the most recent to do so, and 22 have formally applied for membership. Current members are discussing what formal criteria candidates should meet, in hopes that they can come to a consensus in time for the upcoming summit of leaders in Johannesburg on August 20-22.
China and Russia have expressed support for expanding the organization, and South Africa favors the move provided that the rules are carefully considered. India "has reservations," but has largely abandoned its previous reluctance, according to Reuters, leaving Brazil as the "main holdout."
"Brazil is going to have to give in at some point because we are realistic and it is not in our nature to block things," a Brazilian official told the agency. "But it won't be good for us."
Brasilia advocates gradual growth to maintain regional balance and keep pre-eminent roles for the five current members, the sources explained.
You can share this story on social media: