White House admits concerns over 'slow' Ukrainian counteroffensive
Kiev's effort to break through heavy Russian fortifications has been "painstaking work," a senior US official said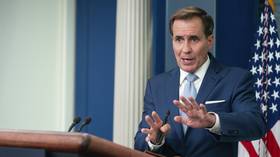 Ukraine's counteroffensive is moving more slowly than anticipated, but is making steady progress nonetheless, White House National Security Council spokesman John Kirby has claimed.
Speaking to CNN's Wolf Blitzer for an interview aired on Monday, Kirby was asked about the status of Kiev's offensive thrust launched in June. The official suggested the results have been less than impressive so far.
"They are moving slowly, and they'll be the first to tell you they're not moving as far or as fast as they'd like to. I think it's important to remember, when they're running into these defensive lines, they're sometimes three deep, and they're protected by minefields," he said, adding "when you're being shot at and shelled… it's really painstaking work."
The spokesman went on to argue that while "it's not as far as they'd like," Kiev is "making progress" on the battlefield, also stating Washington would "keep making sure that they have all the materials they need."
Pressed by host Wolf Blitzer about the US position on attempted Ukrainian attacks on the Russian capital, Kirby said that though the White House is not "encouraging" or "enabling" such strikes, targeting decisions are ultimately up to officials in Kiev.
"It's not about accepting [the attacks], Wolf. They have to make decisions about what they're going to target, and where they're going to put their military capabilities," he said, stressing that "Our position is we want to focus on the war inside Ukraine."
The United Nations has condemned both Moscow and Kiev for strikes on cities, with the office of UN Secretary-General Antonio Guterres blasting Ukrainian attacks on Moscow earlier this week.
"We are against any and all attacks on civilian facilities and we want them to stop," Guterres' deputy spokesman, Farhan Haq, told reporters on Monday, soon after several drones were intercepted over Moscow's financial district, resulting in damage to buildings and injuring one person.
A separate drone strike attempt on Tuesday was also thwarted, according to Russian officials, who said one incoming UAV collided with a building after being electronically jammed.
Though Ukraine does not take credit for attacks beyond its claimed borders as a matter of policy, on Sunday, President Vladimir Zelensky declared that "war is returning to the territory of Russia." One of his top advisers, Mikhail Podoliak, later said Moscow would see "a full-fledged war" and should expect "more unidentified drones, more collapse, [and] more civil conflicts."
You can share this story on social media: