Leprosy alert in US
Cases of the Biblical disease have doubled in the last decade, with central Florida considered a hotspot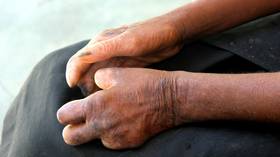 The US Centers for Disease Control and Prevention (CDC) has warned that locally-acquired cases of leprosy are on the rise in central Florida, which accounts for 81% of reported cases in the state and a fifth of all cases in the country.
Leprosy is typically brought to the US by immigrants from areas where the disease is endemic, but more than a third of cases reported in the southeastern US between 2015 and 2020 were acquired locally, the CDC said in a press release on Monday.
The release cited one example of a man who sought treatment at a dermatology clinic for a painful rash that began on his extremities but spread to his torso and face. The man had not traveled either abroad or within the US, and had no contact with immigrants or known leprosy patients, indicating he had acquired the disease in central Florida.
"Our case adds to the growing body of literature suggesting that central Florida represents an endemic location for leprosy," the CDC stated. The agency warned that "travel to this area, even in the absence of other risk factors, should prompt consideration of leprosy in the appropriate clinical context."
Leprosy, also known as Hansen's disease, has existed since at least 600 BC, and today is most commonly found in Brazil, India, and parts of Africa and southeast Asia. Thought to spread by prolonged contact with an infected person, it causes painful rashes and discoloration of the skin, and can lead to muscle wastage, nerve damage, and paralysis. It has been curable with antibiotics since the mid-20th century, although patients can be left permanently disfigured or physically impaired if not treated early enough.
Cases in the US peaked in 1983, before drastically reducing until the early 2000s. However, the number of reported cases has more than doubled in the southeastern US over the last decade, even as the nationwide case tally remained relatively stable at between 160 and 216 per year. Around 159 cases were reported in the US in 2020, according to the Department of Health and Human Services.
Worldwide, the number of cases reported annually has fallen from more than 5 million in the 1980s to 200,000 by 2020, according to the World Health Organization.
You can share this story on social media: