US military bases infected with Chinese malware – NYT
A congressional official described the well-hidden code as a "ticking time bomb"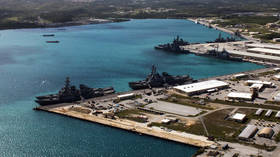 The US government is searching for a malicious computer code it believes Chinese hackers have been able to plant inside the networks controlling power grids, communications systems and water supply at US military bases at home and abroad, American officials have told the New York Times (NYT).
The perpetrators were "probably working for the People's Liberation Army," the paper's Saturday article said. The piece didn't explain how Washington was able to link the malware to China or to its military.
The unnamed US Army, intelligence and national security officials who talked to the NYT suggested that the code might be activated by Beijing to disrupt American military operations in case of a conflict, including the one that could occur around Taiwan.
China considers Taiwan to be a part of its territory, while the US, which supports the government in Taipei, promised to defend the self-governed island if Beijing tries to use force to bring it under control.
A source in Congress described the malware as essentially "a ticking time bomb" that could give China the ability to interrupt or slow down US military deployments or resupply operations, by disabling key utilities at American bases.
The officials also expressed concern that the impact of the code could be even broader, as the same infrastructure is often used to supply civilian homes and businesses.
The first hints of the problem emerged in May when Microsoft detected strange computer code in telecommunications systems on the Pacific island of Guam, where major American air and naval bases are located, and elsewhere in the US territory. But a malware spread in the networks has turned out to be much greater since then, with the US military and security agencies currently working to determine its full scope, the NYT said.
When addressed for comment, the acting spokesman for the US National Security Council Adam R. Hodge, assured media that "the Biden administration is working relentlessly to defend the US from any disruptions to our critical infrastructure, including by coordinating interagency efforts to protect water systems, pipelines, rail and aviation systems, among others."
The paper also cited a statement by the Chinese Embassy in Washington, which outright rejected the report as "smearing China with groundless accusations."
Beijing has "always firmly opposed and cracked down on all forms of cyberattacking in accordance with the law," embassy spokesman Haoming Ouyang pointed out.
"The Chinese government agencies face numerous cyberattacks every day, most of which come from sources in the US," Haoming insisted.
You can share this story on social media: