US ambassador to China hacked – WSJ
The cyber attack reportedly compromised hundreds of thousands of US government emails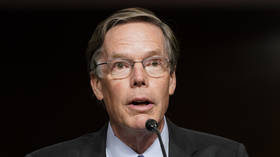 The email accounts of US Ambassador to China Nicholas Burns and other diplomatic officials have been breached in a major hack, the Wall Street Journal reported on Thursday. Microsoft, which first disclosed the attack, has pinned blame on Beijing.
Citing several sources familiar with the matter, the newspaper noted that Daniel Kritenbrink, the assistant secretary of state for East Asia, was also targeted in the hack. Along with Commerce Secretary Gina Raimondo, they are thought to be the highest-level officials affected by the breach, which is alleged to have accessed a vast trove of government emails.
Though it remains unknown how many emails were involved in the hack, it reportedly compromised hundreds of thousands of unclassified messages. The estimate for the number of emails accessed could grow further, the Journal reported.
Asked about the breach, the State Department said it could not share details "for security reasons," but added that an investigation is ongoing.
The cyber attack was first revealed last week by Microsoft, which said hackers had exploited a flaw in the company's cloud-computing environment to access more than two dozen organizations around the world, 10 of them in the United States. It is unclear if any federal agencies in addition to the State and Commerce departments were breached, though the Journal noted that Secretary of State Antony Blinken's emails did not appear to have been targeted.
Microsoft has claimed the attack was launched by a "China-based threat actor" supported by the government in Beijing. In a blog post published last week, the company also said the hackers had "espionage objectives," but arrived at its conclusions with only "moderate confidence."
While America's top diplomat told his Chinese counterpart Wang Yi that Washington would "take appropriate action" in response to the hack, Beijing has dismissed the allegations, with the Chinese Foreign Ministry previously labeling them "disinformation."
You can share this story on social media: