African country confirms defense contract with Russian fighters
Wagner PMC is protecting the president of the Central African Republic, an adviser to its head of state has said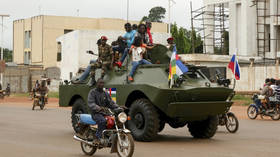 The Central African Republic (CAR) has a defense contract with the Wagner private military company, which is helping to enhance the country's security, Fidele Gouandjika, special minister and presidential adviser, has said.
Members of the Russian PMC are training local forces and protecting President Faustin-Archange Touadera, the adviser said in an interview with Al-Arabiya on Saturday.
NATO and the West are working to destabilize Africa, but the Central African Republic is not afraid of coups anymore because of the security assistance it is getting from Moscow, Gouandjika insisted.
According to Russian Foreign Minister Sergey Lavrov, the Russian Defense Ministry also sent "several hundred" military instructors to CAR.
The country turned to Russia after France, which maintained a military presence in the country until 2022, refused to provide it with weapons to fight terrorism, the aide explained.
The cooperation between Bangui and Moscow is mutually beneficial, while Paris treated CAR as "private property" and tried to exploit the country's resources, he said.
In early July, AFP reported that Wagner PMC members were leaving the Central African Republic after a failed mutiny in Russia from June 23 to 24.
At the time, Gouandjika denied those claims and accused the French press agency of spreading false information.
In an earlier interview, the aide pointed out that CAR was eager to continue security cooperation with Russia in any format that it proposes. "If Moscow decides to withdraw them [Wagner PMC] and send us the Beethovens or the Mozarts rather than Wagners, we will have them," Gouandjika said.
Kremlin press secretary Dmitry Peskov said late in June that the Russian authorities "enjoy" security cooperation with CAR and that it would be maintained despite the mutiny by Wagner.
Lavrov confirmed a few days later that Moscow would not demand the PMC end its missions in CAR or elsewhere in Africa.
Soldiers belonging to the PMC were deployed in African countries in line with agreements reached directly between their governments and Wagner, the foreign minister said.
"The fate of those agreements… must first of all be decided by the relevant governments depending on their interest in continuing this form of cooperation to assure security of their state bodies," he explained.
As part of the deal putting an end to the Wagner mutiny, members of the PMC were offered an opportunity to retire, sign contracts with the Russian military, or relocate to Belarus together with the group's chief, Evgeny Prigozhin.
You can share this story on social media: