Western-supplied equipment was stolen in Ukraine – Pentagon report
The US has struggled to keep track of weapons it sent to Kiev early in the conflict, the paper says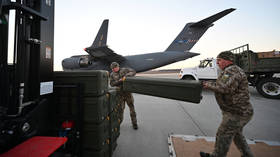 Some of the military equipment supplied to Ukraine by the US and its allies during the conflict with Russia has fallen into the hands of criminal groups, volunteer fighters and traffickers, a report by the Pentagon inspector general has revealed.
CNN and Militray.com reported on the content of the paper, entitled "Evaluation of the DoD's Accountability of Equipment Provided to Ukraine," on Thursday, after obtaining the document via a Freedom of Information Act request. The report, which came out in October, examined the period from February 2022, when the fighting between Moscow and Kiev began, to September of that year.
During that time, the Department of Defense experienced "challenges" in tracking and monitoring the weapons and equipment provided to Ukraine, the paper acknowledged.
The US office of Defense Cooperation in Kiev "was unable to conduct required [end-use monitoring] of military equipment that the United States provided to Ukraine in FY 2022," the report read, as cited by CNN. According to the inspector general, the problems stemmed from the "inability of DoD personnel to visit areas where equipment provided to Ukraine was being used or stored."
A highly redacted section of the report provided several examples of Western-supplied hardware ending up in the wrong hands.
Last June, an organized crime group, allegedly overseen by an "unspecified Russian official," infiltrated a volunteer battalion and stole various weapons, including a grenade launcher and a machine gun, as well as more than 1,000 rounds of ammunition. "The perceived intent of the group was to conduct destabilizing activities," the report read, as cited by Military.com.
The same month, a group of Ukrainian criminals, who were posing as aid workers, snatched $17,000 worth of bulletproof vests provided to Kiev by its allies, the paper said.
It also described an incident in August 2022, when volunteer battalion members stole 60 rifles and almost 1,000 rounds of ammunition, "presumably for sale on the black market."
All of the above-mentioned plots were uncovered by the Ukrainian security services, with the equipment being retrieved, the report claimed.
Moscow, which strongly opposes the supply of Western weapons to Kiev, has many times pointed to the danger of those arms being smuggled out of Ukraine and sold on the black market. In May, Russia's Foreign Ministry spokeswoman Maria Zakharova warned due to this, "terrorist and criminal activity could reach unprecedented scale" around the globe.
You can share this story on social media: