US military forces female recruit to shower with transitioning men – senator
A lawmaker has claimed that the young soldier also had to sleep between two males who were transitioning to female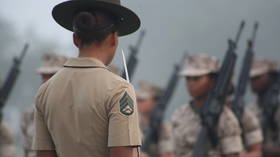 A Washington lawmaker has claimed that an 18-year-old female recruit was forced by the US military to shower with biological males who were allegedly in the process of transitioning to women.
The young woman, who was also forced to sleep between two biological males, considered quitting over the issue and declined to speak out publicly for fear of ruining her military career, US Senator Mike Rounds (R-South Dakota) said on Monday in a Fox News interview. The lawmaker added that he was informed of the incident by the attorney general of the South Dakota National Guard.
"She could have basically resigned or stepped away," Rounds said. "She could have started over again. But nonetheless, it was an extremely uncomfortable position, and I think this is one of the reasons why we're not meeting our recruitment goals now."
Republican lawmakers have claimed that "woke" Pentagon policies -- such as teaching critical race theory and funding sex-change surgeries for transgender troops – have discouraged many young Americans from enlisting. The US Army fell 25% of its recruiting goal last year and forecast a similar shortfall in 2023. The Navy reportedly may fall 10,000 recruits short of its quota of 38,000 enlistments.
In the case cited by Rounds, the female recruit was forced to shower with biological men with their male genitalia exposed. "The respect that this young recruit should have received and the privacy that she should have had, she was deprived of," the senator said.
Pentagon policy requires troops to use showers and other facilities that align with their "gender marker," also referred to as their "self-identified gender." A service member can change his or her gender marker, based on a diagnosis of gender dysphoria by a military doctor.
The US Department of Defense (DOD) has a "sacred obligation" to ensure that all service members, including transgender troops, can serve with "dignity and respect," White House National Security Council spokesman John Kirby told reporters on Monday.
The Pentagon told Fox that the female recruit cited by Rounds should raise her concerns with her superiors. "DOD policy is that all service members must be treated with dignity and respect. We would encourage any troop who's feeling uncomfortable or has concerns about privacy in shared spaces to work through their chain of command. Commanders may employ reasonable accommodations to respect the privacy interests of service members."
You can share this story on social media: