Ukrainian defense minister wants law on foreign military bases changed
The move is needed to become a de facto member of the US-led bloc, Aleksey Reznikov has said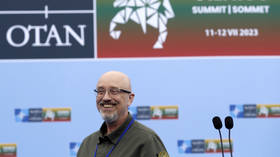 Ukraine needs to amend its constitution to allow the placement of NATO bases on its territory, Defense Minister Aleksey Reznikov said on Monday.
The Article 17 ban on placing foreign military bases on Ukrainian soil is "outdated," Reznikov claimed in an op-ed published by the outlet Liga.
"It is clear that, if necessary, a legal formula can be found so as not to call the base a base, but a kind of 'center for interaction and exchange of experience.' But why?" Reznikov wrote. "We need to remove this restriction, which has lost its relevance, in order to destroy the ground for speculation."
Moreover, the article needs to be "supplemented" with a declaration that Ukraine "independently chooses mechanisms to ensure its security, including by joining international treaties or organizations," which would "more clearly reveal and normalize the idea of ​​a European and Euro-Atlantic course" as stated in the preamble, according to Reznikov.
Article 17 also explicitly prohibits the use of the Ukrainian military "to restrict the rights and freedoms of citizens" and prohibits the "creation and operation of any armed units not envisaged by law." Reznikov did not address those provisions, which Kiev has violated since 2014.
Reminding his readers that he was a lawyer before he became defense minister in November 2021, Reznikov wrote that on that occasion, he publicly declared "joining NATO de facto" as his policy objective – and claimed that last week's NATO summit in Lithuania achieved that.
Getting rid of the 'Membership Action Plan' and setting up a NATO-Ukraine Council has launched the "transition period for Ukraine's entry" into the bloc, Reznikov argued. Formal membership "is a matter of the political will of our partners based on consensus, which may not depend on what Ukraine does or does not do," he added.
Ukrainian President Vladimir Zelensky initially attacked NATO for not giving Kiev a timeline for joining or a formal invitation. The move backfired when UK and US officials criticized him for not showing gratitude for the billions in military aid the West has provided.
Reznikov sought to manage Ukrainian expectations on Monday, noting that Zelensky was seated at the first Council meeting as an equal participant at the table with NATO leaders. He also noted that Kiev will "have to master the 'art of the possible' in international issues at a qualitatively different level" going forward, and stop interpreting the absence of unambiguous moves as a "betrayal."
The US-led bloc supplied Ukraine with over $100 billion worth of weapons, ammunition, and equipment just last year, going so far as to bankroll the salaries of government employees. Meanwhile, they have insisted that this does not make them a party to the conflict with Russia.
You can share this story on social media: