Zelensky responds to NATO demand for 'gratitude'
The Ukrainian leader changed his tune after Western leaders told him to "cool down," Bloomberg has reported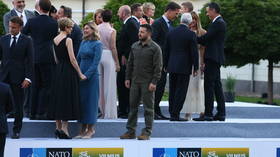 Ukrainian President Vladimir Zelensky insisted on Wednesday that he has always been thankful to the West for weapons, ammunition and all the other assistance, after both US and UK officials brought up the issue at the NATO summit in Vilnius, Lithuania.
"I don't clearly understand the questions. We have always been grateful and always are grateful," Zelensky said at a press conference. "I simply don't know how else we should be grateful. We can wake up in the morning and thank the minister. Have him write to me how to be grateful, and I will be grateful."
The Ukrainian leader was answering a question about a statement made by UK Defence Secretary Ben Wallace, who noted earlier that it would help Kiev to show some gratitude, instead of always badgering the West.
"We are not Amazon," Wallace told reporters, referring to what he said were complaints from American colleagues that the Ukraine sometimes treated the US as an online retailer.
US National Security Advisor Jake Sullivan also said some of Kiev's criticism was "entirely unfounded and unjustified," noting that Washington has provided "an enormous amount of capacity" to the Ukrainian military.
"I think the American people do deserve a degree of gratitude from the United States government [sic] for their willingness to step up, and from the rest of the world as well," Sullivan said, shortly before the meeting between Zelensky and US President Joe Biden on Wednesday afternoon.
The unusual displays of public criticism came after Zelensky attacked NATO on Monday for not giving Kiev a timeline for membership, and accused the US-led bloc of not showing Ukraine the proper respect. The US leadership was reportedly "furious" about Zelensky's social media posts.
Zelensky and his staff decided to send the "provocative" tweet in an attempt to shift the debate within NATO to their favor, Bloomberg reported on Wednesday, citing "more than a dozen diplomats and officials," all speaking on condition of anonymity. The move proved "counterproductive," according to the outlet. Several NATO leaders told Zelensky over dinner on Tuesday that he should "cool down" and look at what NATO was actually offering. Biden did not attend the dinner.
The British delegation intervened in order to calm the situation, according to Bloomberg. Speaking to reporters on Wednesday, British PM Rishi Sunak insisted that Zelensky had actually expressed his gratitude "countless times" to him personally, the Parliament and cabinet ministers, for both the military aid and Western "leadership."
The UK is the second-largest donor to Kiev with $6 billion worth of materials, while the US has committed over $46 billion, according to the Kiel Institute for the World Economy in Germany, which runs the Ukraine Support Tracker.



You can share this story on social media: