Zelensky attacks NATO
The Ukrainian president has condemned the US-led bloc for its reluctance to offer Kiev immediate membership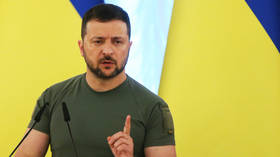 Ukrainian President Vladimir Zelensky has accused NATO of not showing enough "respect" as he lashed out at the US-led bloc for its unwillingness to offer Kiev immediate membership.
Zelensky launched his broadside on Tuesday as NATO began its summit in Vilnius, Lithuania. The Ukrainian president cited "signals" he had received which indicated Kiev would not be granted an invitation of any sort to join the bloc.
"We value our allies. We value our shared security. And we always appreciate an open conversation. Ukraine will be represented at the NATO summit in Vilnius. Because it is about respect. But Ukraine also deserves respect," Zelensky said in a statement on social media.
It's unprecedented and absurd when [a] time frame is not set neither for the invitation nor for Ukraine's membership. While at the same time vague wording about 'conditions' is added even for inviting Ukraine.
According to reports, the most recent version of a draft communiqué by NATO states that it "will be in a position to extend an invitation to Ukraine when allies agree and conditions are met." Such a stance appears unacceptable to Kiev, which has accused the bloc of playing into Russia's hands.
"It seems there is no readiness neither to invite Ukraine to NATO nor to make it a member of the Alliance. This means that a window of opportunity is being left to bargain Ukraine's membership in NATO in negotiations with Russia," Zelensky wrote.
The outburst from the Ukrainian leader has reportedly not gone down well with Western diplomats at the summit in Vilnius. "I am critical of many aspects and particularly of some allies' attitude, but I think that this is not a thoughtful and fair approach," a senior diplomat from Central Europe told Politico, claiming that Zelensky "is going too far."
NATO has sent already enough signals that it is ready to accept Ukraine into its ranks at some point, another diplomat told the outlet. "Whatever the wording in our communiqué, all allies are agreed that Ukraine's future rightful place is in NATO and only us and them can decide on this," he said.
You can share this story on social media: