'We're not Amazon' – UK responds to Ukraine's weapons requests
Defence Secretary Ben Wallace has suggested that Ukrainian officials should show gratitude for weapons donations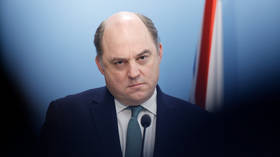 Ukraine should adopt a less demanding tone when speaking to nations that are arming it to fight against Russia, UK Defence Secretary Ben Wallace has suggested. "We are not Amazon," he said.
The remarks, which were quoted by the British media, were made during an event on the sidelines of the NATO summit in Lithuania on Wednesday. Wallace, who is normally a vocal supporter of Kiev, said it would help Ukraine's cause if they displayed some gratitude.
"Sometimes you are asking countries to give up their own stocks," Wallace said. "Sometimes you have to persuade lawmakers on [Capitol] Hill in America. You have to persuade doubting politicians in other countries that it is worth it."
The British official said he heard complaints from US counterparts that Ukraine was treating their nation like an Amazon store, even as it provides billions of dollars worth of military assistance.
Wallace confirmed that this was "true," and said he had been personally subjected to this kind of treatment by Ukrainian officials. He recalled driving for 11 hours to meet with a delegation last June only "to be given a list" of requests.
US National Security Advisor Jake Sullivan made a similar public remark in Lithuania, asserting that "the American people do deserve a degree of gratitude from the US government for their willingness to step up [and aid Ukraine] and from the rest of the world as well."
Ukrainian officials, including President Vladimir Zelensky, have been critical of the US and its allies for not providing enough support or for providing it too slowly. The Ukrainian leader cited the supposedly unhurried pace of weapons deliveries as a key reason for underwhelming results from Kiev's counteroffensive last month.
One of the latest outbursts from Zelensky came during the current summit, as NATO leaders declined to provide a roadmap for Ukraine's accession to the US-led military bloc and said the country would still have to meet some conditions to qualify. He called the position "unprecedented and absurd."
The US delegation in Vilnius was reportedly infuriated by the verbal attack. The Americans perceived it as an attempt by Zelenksy to pressure the alliance into reconsidering its decision, according to media reports.
It's not the first time that Western irritation with Kiev's communication style has been reported. Last June, US President Joe Biden reportedly told Zelensky to show "a little more gratitude" after snapping during a phone call.
You can share this story on social media: