Ukraine calls out West over NATO membership terms
All the conditions for Kiev to join the US-led bloc are already in place, Dmitry Kuleba claims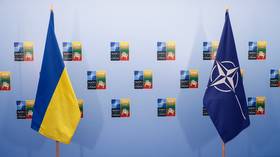 Ukraine is still unaware of the conditions it must fulfil to join NATO, Foreign Minister Dmitry Kuleba has claimed. The diplomat was commenting after the US-led military bloc declined to offer Kiev immediate membership at a summit in Lithuania.
Kiev officially applied to join NATO last September, but has seen little progress since then. In a joint statement in Vilnius on Tuesday, the bloc's members said they could only "extend an invitation to Ukraine to join the alliance when allies agree and conditions are met."
Kuleba told US state-financed outlet Radio Free Europe/Radio Liberty (RFE/RL) on Wednesday that the US and its allies had yet to explain what exactly should happen for Ukraine to be allowed into the bloc.
"That's the problem. I mean, when will those conditions be met? What are those conditions? Who should formulate them? What are they?" the diplomat asked.
He noted that the Ukrainian leadership and NATO have a "fundamentally different" approach to the issue of Kiev's membership.
"Once again, our stance is that all conditions are already in place for inviting Ukraine to become a member of NATO… Their stance is that there are some conditions that must be met," he said.
Kuleba confirmed that the US and Germany have been the most skeptical NATO members regarding Ukraine's admission.
Washington and Berlin have resisted calls from Poland and the Baltic states for Ukraine to be given a roadmap for membership, and have instead argued that the conflict with Russia must end first.
However, Kuleba described the situation as "a little more complicated than just black and white," and claimed that the US had been "decisive" in ensuring that the word 'invitation' appeared in the text of NATO's latest communique.
Ukrainian President Vladimir Zelensky lashed out at NATO on Tuesday after receiving word that Kiev's membership demands would not be met. The lack of a roadmap towards accession in Vilnius was "unprecedented and absurd," the leader wrote on Twitter. Zelensky further claimed that NATO's "indecisiveness" on Ukraine's bid was a sign of "weakness."
Citing an anonymous official, the Washington Post reported that Zelensky's comments had left the US delegation in the Lithuanian capital "furious."
White House National Security Advisor Jake Sullivan said on the sidelines of the summit that allowing Ukraine to join NATO now would lead the bloc "into a war with Russia." He promised that a "reform path" for Ukraine would be drawn up, but added he could not say when exactly that would happen.
Russia has described the conflict with Ukraine as a "proxy war" waged by the US and its NATO allies. Preventing Kiev from becoming a NATO member was cited by Moscow as among the main reasons for launching its military operation in the neighboring country in February 2022.
You can share this story on social media: