Top official defends Budapest's anti-LGBTQ policies
A Foreign Ministry official blasted Western ambassadors who signed a joint call for the Hungarian government to repeal LGBTQ propaganda laws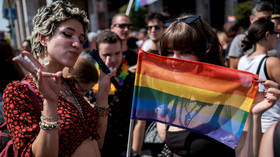 A senior official from Hungary's Foreign Ministry has blasted foreign embassies in Budapest for interfering in the country's internal affairs – after ambassadors from Germany, the US, and 36 other countries signed a joint statement calling on Viktor Orban's government to repeal anti-LGBTQ laws.
Ahead of an LGBTQ Pride event in Budapest on Saturday, Tamas Menczer, the secretary of state responsible for bilateral relations at the Ministry of Foreign Affairs and Trade, released a ten-point response to the Western ambassadors, vowing to protect Hungarian children from LGBTQ propaganda "even if they put pressure on us and attack us."
Menczer went on to say that instead of worrying about LGBTQ laws in Hungary, countries such as France, Sweden, the Netherlands, Slovakia, Germany, and the US should address their own problems, such as migrant riots, rising crime, drugs, and questionable elections.
"I could go on and on with the countries of all the signatory ambassadors," the MP wrote, adding that the foreign ambassadors "are not governors here, and Hungary is not a colony."
"I am amazed that, despite the serious problems of democracy mentioned above in their country, they deal with the internal affairs of another country," Menczer said.
The official added that "such behavior is completely foreign to Hungarian foreign policy" and stressed that Hungarian ambassadors "always treat the host country with respect and never comment on internal affairs."
Viktor Orban's 2021 anti-LGBTQ propaganda law has been the topic of heated debate in the EU, with the European Commission, European Parliament, and over a dozen EU states filing a joint lawsuit against Hungary, arguing that the law violates the rights of LGBTQ individuals and infringes on free speech.
Orban's government insists that the law only aims to protect children and does not target the LGBTQ community.
The Children Protection Act, which was originally designed to tackle pedophilia and safeguard children's wellbeing, prohibits the display of content depicting or promoting homosexuality and gender reassignment to those under the age of 18.
You can share this story on social media: