Israel using AI in airstrikes – Bloomberg
The technology has reportedly been utilized to select targets and accelerate logistics management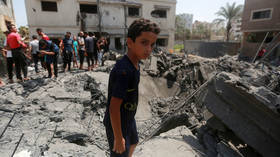 Israel's military has reportedly been using artificial intelligence (AI) to accelerate its pinpointing of airstrike targets and handle logistics planning for subsequent raids amid rising tensions in the occupied Palestinian territories.
The AI-based targeting system can speedily process vast amounts of data to prioritize and assign thousands of targets for both piloted aircraft and drones, Bloomberg reported on Sunday, citing Israeli military officials. The Israel Defense Forces (IDF) also employs another AI program, called Fire Factory, which can organize wartime logistics, such as calculating munitions loads and proposing a schedule for each strike.
The revelation comes after West Jerusalem ramped up airstrikes on the occupied West Bank in recent weeks, carrying out what it called a "focused counterterrorism operation." At least 15 people were killed during a May 8 airstrike on the coastal Palestinian territory of Gaza. The IDF has also continued to strike targets in Syria, escalating tensions with arch-enemy Iran.
The AI systems used by the IDF rely on human operators to verify and approve each airstrike and raid plan, Bloomberg said. "What used to take hours now takes minutes, with a few more minutes for human verification," an IDF colonel told Bloomberg. "With the same number of people, we will do so much more."
However, experts have raised concerns about the potential consequences of an AI miscalculation, as well as the likelihood that humans will eventually be removed from the decision-making process as the technology develops. "If there is an error in the AI's calculations, and if the AI ​​is inexplicable, who do we blame for this error?" said Tal Mimran, a law professor and former military adviser at the Hebrew University of Jerusalem. "You can destroy the whole family… by mistakes."
The IDF called the May 2021 conflict in Gaza the world's first "AI war," based on its use of the technology to speed up analysis of intelligence on militants in the region. Last week, Israeli defense contractor Elbit Systems demonstrated its "AI-driven" Legion-X operating system for autonomous drone swarms.
You can share this story on social media: