Israeli settlers charged with 'terrorism'
One of the suspects was accused of breaking into a mosque in the West Bank and desecrating copies of the Koran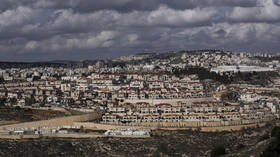 Two Israeli settlers have been indicted on charges linked to terrorism following allegations that they vandalized Palestinian property in separate incidents. The cases come after Israeli security officials vowed to crack down on "nationalist terrorism" by settlers in the West Bank.
One of the defendants, who was not identified by name but is reportedly in his early 30s, was accused of attacking a mosque in the Palestinian village of Orif alongside "a large number [of] rioters," according to an indictment cited by Reuters.
The goal of the vandals was "to arouse fear or shock in the community through a grave blow to the sacrosanct," the charging document said, noting that the rioters destroyed furniture, smashed windows and desecrated copies of the Koran inside the mosque.
The second suspect was described as a 22-year-old off-duty soldier in the Israel Defense Forces (IDF), who allegedly participated in a "mob break-in" at a home in Umm Safa village near Ramallah, according to Reuters. The indictment said that a mother and her four children were forced to hide in a closet while the soldier attempted to set the building on fire, inflicting smoke-inhalation injuries on two of the kids.
The defendants were slapped with a number of charges, including disorderly conduct, aggravated arson, assault and insulting a religion. While those offenses typically carry penalties ranging between three and 20 years in prison, the charges were designated "acts of terrorism," allowing the courts to double any sentence handed down.
Attorneys for the two indicted settlers, who are represented by the same law firm, argued that they were unfairly charged "for media and populist purposes," going on to accuse Israel's Shin Bet security service of targeting innocent men "instead of finding the people who killed Jews."
The West Bank has seen an uptick in arson and vandalism by Jewish settlers since the June 20 slaying of four Israelis by Palestinian gunmen. The Hamas militant group, which governs the Gaza Strip and is active in the West Bank, said the attack was a retaliation for an IDF raid on the Jenin refugee camp, which left seven Palestinians dead and nearly 100 wounded.
The Israeli government has pledged to crack down on "nationalist terrorism" in recent weeks. Following an arson attack on two West Bank homes in June, several high-ranking security officials issued a joint statement condemning the violence and vowing to step up police and military operations in the area.
Hamas, meanwhile, vowed to retaliate against the raid on Jenin. Last week, eight Israelis were injured when a Palestinian terrorist rammed a car into pedestrians in Tel Aviv and then exited the vehicle to stab civilians.
You can share this story on social media: