Hungarian PM makes Ukraine peace proposal
Viktor Orban says that talks, not weapons, are the way forward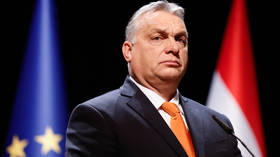 Hungarian Prime Minister Viktor Orban has urged NATO to promote a ceasefire and peace talks in Ukraine rather than continue to ship weapons to Kiev. He made the argument in a video clip posted on social media on Monday.
"Instead of bringing weapons to Ukraine, we should bring peace," Orban said in the video, delivered in Hungarian with English captions. "A ceasefire is necessary, and instead of war, peace negotiations should start as soon as possible."
NATO is supposed to defend member states, "not to carry out military actions on the territory of other countries," Orban noted in the video, urging the US-led bloc to stay true to its official "defensive" mission.
Budapest's position remains unchanged, the prime minister added, and is informed by the fact that Hungary borders Ukraine and that a significant ethnic Hungarian community in Transcarpathia is in danger from the hostilities.
Leaders of NATO countries met on Monday in Vilnius, Lithuania for the annual summit. The bloc doubled down on its rhetorical and logistical support for the government in Kiev, but stopped short of actually inviting Ukraine to join the bloc.
The US and its allies have poured over $100 billion worth of weapons, equipment, and ammunition into Ukraine since hostilities with Russia escalated in February 2022, and imposed a wide-ranging economic embargo on Moscow, while insisting they are not actually a party to the conflict.
Ukrainian President Vladimir Zelensky, who traveled to Vilnius but is not formally attending the summit, attacked NATO on social media Monday morning, accusing the bloc of not giving Ukraine the proper "respect" by daring to set conditions for membership and not offering a timeline.
Hungary has repeatedly argued for a peaceful resolution of the Ukraine conflict, refusing to send any weapons to Kiev or allow them transit across its territory. That stance has frequently led to a war of words with Zelensky and his officials.
You can share this story on social media: