Cuba points finger at US over unrest
Washington has called for the release of around 700 people detained following widespread demonstrations in 2021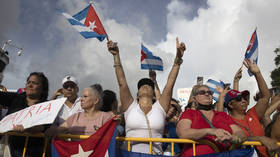 A front-page editorial on Monday on Cuba's state-run Granma newspaper blamed the United States for having a "direct responsibility" for the widespread protests that gripped the caribbean island two years ago.
"The United States has a direct responsibility for the disturbances of July 11 and 12, 2021," the publication wrote, ahead of the two-year anniversary of the unrest. It adds that Cubans had been paid by Washington to take part in violent acts, including robbery and assault.
The newspaper also claimed that a "campaign of disinformation and slander" was apparent on social media, as Havana was impacted by the US policy of "maximum pressure" which it says was "promoted by the White House."
While US President Joe Biden has mostly maintained predecessor Donald Trump's hardline, maximum-pressure policies on Cuba, his administration has rolled back some of the sanctions, including easing rules for US travelers and facilitating family remittances to the island.
In July 2021, Cubans protested en masse in almost 50 cities, with many simply calling for "freedom," in protests brought on by an economic crisis described as being the worst the island has seen in three decades. Washington has imposed extensive, decades-long sanctions on Havana which, coupled with the economic impact of the Covid-19 pandemic, has contributed to the country's financial troubles.
Cuba has also been faced with fuel and medicine shortages, problems with food distribution and its worsening public transport. US government data indicates that at least 140,000 Cubans have migrated to the United States since October 2021.
The US State Department has denied any involvement in the 2021 unrest, and has called for the release of around 700 persons imprisoned on various charges related to the demonstrations, including sedition.
Washington has claimed that "the [Cuban] regime continues to violently repress virtually any kind of peaceful public dissent," Reuters reported on Monday. It added that Havana routinely "threatens families of detained protestors" who speak in public about the detention of their family-members.
The European Union (EU) has joined Washington in calling for the release of protesters linked to the 2021 demonstrations.
However, the United States' hostile policies towards Cuba will make the release of prisoners "very difficult," foreign relations expert Arturo Lopez-Levy told Reuters, adding that "a climate conducive to at least reducing tensions over the issue has not been built."
You can share this story on social media: