Mayor resigns over 'stupid' memes
The top official in Newport, Oregon has admitted to posting "dark" content in a closed Facebook group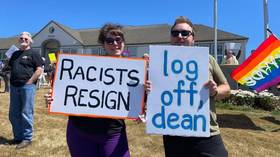 The mayor of Newport, Oregon has resigned after he was found to have shared offensive memes on Facebook over a period of several years, prompting calls for him to step down by local activists and lawmakers.
Dean Sawyer announced that he would leave office on Monday, issuing an apology just days after a local media outlet uncovered a long list of derogatory social media posts in an online group for current and former police officers, some dating back to 2016.
"I am sorry – in its simplest and sincerest form," he said in a written statement, adding that his conduct was "not freedom of speech, it was stupid speech"
Serving as a career officer with the Newport Police Department before he was elected mayor in 2018, Sawyer went on to call his Facebook posts "vile and dark," also stating "I now realize that some of my actions and my words have hurt people I love and care about."
Oregon Public Broadcasting (OBP) first unveiled the offensive content in a report last Friday, claiming Sawyer "shared memes and posts denigrating women, immigrants, non-English speakers and the LGBTQ+ community" in a Facebook group with more than 39,000 members. Dubbed "LEO Only," the page requires members to submit a copy of their law enforcement ID, but also allows former officers to join.
According to OBP, among other things, Sawyer had posted an image of scantily clad women with text that reads "strippers waiting for EMS to untangle the new girl's balls from the pole." The civil servant also reportedly posted an image of a journalist interviewing competitive swimmer Lia Thomas, a trans woman. The image was captioned with the words "I won that woman's swim race fair and square, if they don't like it they can suck my d**k."
The civil servant also reportedly posted an image captioned with the words "Every girl wants to be swept off her feet. It's when you put her in the trunk that she starts to freak out."
The report triggered protests over the weekend at the Newport city hall, where LGBTQ+ activists and five members of the local city council gathered to demand Sawyer's resignation. The city's police chief, Jason Malloy, as well as Lincoln County Sheriff Curtis Landers also slammed his social media posts.
"We made it very clear to Dean that he needed to resign and get the heck out of government," city councilor Dietmar Goebel said. "His posting was beyond the pale, and he couldn't continue past that."
In his resignation letter, Sawyer argued that the posts "do not reflect my values," but maintained that "my online persona has become too polarizing for me to continue." He voiced hopes that his decision would "hasten the process of healing for the uproar I have caused."
City Council President Jan Kaplan will serve as acting mayor for Newport until local officials can appoint a replacement, with the issue now on the agenda for the next council meeting later this month.
You can share this story on social media: