Russia and US remain world's leading military powers – study
The new Global Firepower list has pegged the US and Russia in first and second places, while Germany has dropped to 25th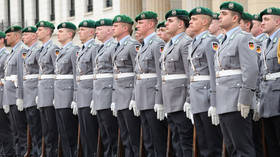 The US and Russia have maintained their standing atop the Global Firepower (GFP) ranking of the world's top militaries, while Ukraine has risen up the ranks and key NATO states have lost strength amid massive aid campaigns for Kiev. Ukraine comes in at No. 15, up from No. 22 last year. Germany, however, has tumbled to No. 25.
GFP analyzes the military strength of 145 nations and scores their firepower based on such factors as quantity of weaponry, financial standing and logistical capabilities. For example, Russia ranked ahead of the US by quantity and readiness of tanks, self-propelled artillery and rocket artillery. Washington was No. 1 in the world in nine categories of air power.
The US, which boasts defense spending that exceeds the combined budgets of the rest of the world's ten largest militaries combined, ranked first on the new GFP list, with an index score of 0.0712 (with 0.0000 being optimal). Russia remained second and scored 0.0714, just two ten thousandths of a point behind the US. China was third, at 0.0722.
No other military comes close to the GFP's top three, with fourth-place India scored at a distant 0.1025 and the UK scoring 0.1435 for fifth place, the report showed. The UK overtook Japan, South Korea and France, rising from eighth place in 2022.
Other top NATO members saw declines in their military standing. France dropped from seventh in the 2020-2022 rankings to ninth place in 2023. Germany, which ranked in the top ten as recently as 2019, tumbled to 25th, falling behind the likes of Thailand, Taiwan and Spain. NATO ally Canada slid from 23rd to 27th place.
Ukraine rose seven places amid its conflict with Russia. Its firepower index was 0.2516. "As Ukraine continues its defense against Russia, it has increased its GFP index score for the current year as a result of its response, financial and material backing from the West and introduction of new key categories, which benefits its overall placement on the list," the report noted.
2023 will prove a critical year in the direction of the bloody Russo-Ukrainian conflict as the stresses and demands of a prolonged war against a larger neighboring power will eventually come to light."
The US and other benefactors gave Ukraine more than $170 billion in military, financial and humanitarian aid between January 2022 and February 2023, according to a study by Germany's Kiel Institute for the World Economy.
Despite the massive aid efforts, Ukrainian and American artillery stockpiles are running low, US President Joe Biden admitted in a CNN interview aired on Sunday.
"One of the craziest revelations of the Ukraine war is that the US can't produce as much ammunition as Russia, even though the US spends over $800 billion/year on defense, which is ten times that of Russia," US podcast host David Sacks said last month. While international weapons for Ukraine are having an impact on the country's ranking, he added that "American taxpayers must be getting royally ripped off by the military-industrial complex."
You can share this story on social media: