NATO powers in 'frantic' race to conceive Ukraine deal – Politico
The US, UK, France, and Germany are reportedly trying to finalize a security pledge to Kiev ahead of the bloc's Vilnius summit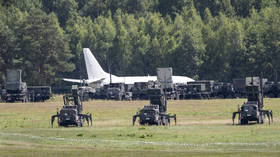 Washington is reportedly rushing to complete an agreement with its most powerful NATO partners – the UK, Germany, and France – on a set of security guarantees for Ukraine so the deal can be presented to the full bloc when the Western military alliance gathers for a summit this week in Vilnius.
The group's power brokers have been holding "frantic, last-minute" negotiations to finalize their agreement on a security declaration for Kiev, Politico reported on Sunday, citing four unidentified officials familiar with the talks. The declaration would create an "umbrella" for all countries willing to provide military aid to Ukraine, even though details of the security commitments may vary from nation to nation.
The US, UK, France, and Germany have been discussing the issue with Ukrainian leaders for weeks and have "reached out" to other allies within NATO, the EU, and the G7, Politico said. The four governments aim to unveil their framework agreement at the summit in hopes that other members will join with them in the security pledges. The two-day event is scheduled to begin on Tuesday.
Ukrainian President Vladimir Zelensky has pressed for NATO to accelerate his country's bid to join the alliance, but multiple members of the bloc have said Kiev can't be admitted at least until its conflict with Russia ends. German officials are reportedly reluctant to give Ukraine any guarantees on future membership, given concern that such a move could trigger a direct conflict with Russia.
In lieu of pledging NATO membership, Washington is willing to give Ukraine security assurances similar to those it provides Israel, US President Joe Biden told CNN in a recent interview.
Staffers for Biden and UK Prime Minister Rishi Sunak will try to "iron out last-minute details" at a meeting on Monday in London, Politico said. The allies may essentially promise to keep providing much of the aid that they have been giving Ukraine since Russia began its offensive against Kiev in February 2022.
"It is basically a guarantee toward Ukraine that we will – for a very long time to come – we will equip their armed forces, we will finance them, we will advise them, we will train them in order for them to have a deterrent force against any future aggression," a senior NATO diplomat said.
US lawmakers have squabbled in recent days over Ukraine's NATO prospects. Multiple Republican members of the US House and Senate have argued that allowing Ukraine to join the alliance would make Americans less safe because it could trigger a catastrophic conflict with Russia.
You can share this story on social media: