NATO divided over cost of supporting Ukraine – Politico
The effort to maintain unanimity on aid to Kiev is reportedly raising long-term complications for the US-led bloc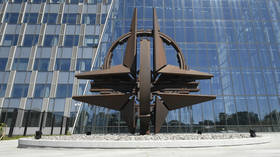 Continuing support for Ukraine in its conflict with Russia may mean long-term trouble for NATO, with major issues that should be addressed by the military bloc being "kicked down the road," experts and former officials have told Politico.
A piece run by the outlet on Saturday ahead of the upcoming NATO summit in Vilnius, Lithuania, raises questions about the mounting costs of aid to Ukraine, as well as a lack of unity among members. Many allies have displayed increasing alarm over "how long, and at what cost, Kiev can continue to be supported," the article said.
In public, however, NATO and US officials have ramped up efforts to demonstrate a united front ahead of the summit, expressing readiness to continue backing Ukraine for as long as necessary.
"The [US] president has been clear that we are going to support Ukraine for as long as it takes and provide them an exceptional quantity of arms and capabilities," US National Security Adviser Jake Sullivan said on Friday.
Solidarity with Kiev, however, may ultimately serve Washington's domestic goals, namely strengthening the position of US President Joe Biden and the Democrat Party ahead of the 2024 general elections. At the same time, growing political uncertainty in the US is pushing Ukraine to demand more and more from its Western backers in order to prepare for a scenario when aid abruptly stops, Hagar Chemali, a former US government official under president Barack Obama, told Politico.
"Given that [Donald] Trump is running again for president and given the growing chorus of Republican candidates who question or are against US support for Ukraine. I would expect President [Vladimir] Zelensky to push even harder for additional military support this year to avoid getting stuck in US domestic politics as we near November 2024," she said.
Moreover, the effort to supply Ukraine might also be an attempt to avoid addressing long-term problems within the US-led alliance by focusing on short-term goals, Rachel Rizzo, a fellow with the Atlantic Council's Europe Center, told the outlet.
"It's indicative of the broader climate within the alliance and how right now the priority is to hold the line on Ukraine for as long as possible," Rizzo stated, expressing doubt that the bloc would provide any clarity on a timeline for Ukraine's NATO membership at the summit.
"NATO must present a cohesive front at this summit. So the easier approach here is just answering the short-term questions; and the bigger questions that require consensus from allies are being kicked down the road a little," she said.
NATO has appeared to be split on offering Ukraine a clear roadmap for joining, with major member states, including the US itself, seemingly reluctant to do so. Recently, Biden warned that inviting Kiev into the alliance now would carry the risk of bringing the organization into a war with Russia.
You can share this story on social media: