BBC caught in new child sex scandal
An unnamed presenter with the British state broadcaster reportedly paid a teenage girl for explicit photos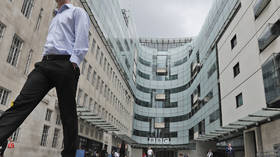 The British government has urged the BBC to "urgently" investigate claims that one of its presenters paid a teenage girl more than £35,000 ($45,000) for sexually explicit images. Culture Secretary Lucy Frazer spoke to BBC chief Tim Davie about the allegations on Sunday.
"As a public service broadcaster in receipt of public funding, senior officials have stressed to the BBC that the allegations must be investigated urgently and sensitively," the Department for Digital, Culture, Media & Sport (DCMS) said in a statement on Sunday.
Frazer addressed the allegations in a phone call with Davie later in the afternoon. In a post on Twitter, she said that Davie "assured me the BBC are investigating swiftly and sensitively."
The BBC has an extensive record of failing to deal with child sexual abuse committed by the stars on its roster. Jimmy Savile, Stuart Hall, and Rolf Harris all abused children while working for the broadcaster, with Hall and Harris both serving sentences for indecent assault. Savile's alleged crimes – which involved up to 450 victims over five decades – became widely known after his death in 2011.
According to the alleged victim's mother, the presenter began exchanging messages with her daughter in 2020, when she was 17 years old. Over the next three years, the presenter sent the teen more than £35,000 in exchange for "performances," the mother told The Sun, which broke the story on Friday.
The money reportedly kept coming as the teen developed a crack cocaine addiction. The mother claimed to have seen evidence of video calls between the presenter and her daughter, in which the TV star appeared in his underwear. The mother first went to the BBC with her allegations in May, and the presenter was taken off the air last week, The Sun reported.
"I loved watching him on TV, so I was shocked to see a picture of him sitting on a sofa in his house in his underwear. I immediately recognized him," the mother told the newspaper.
BBC stars Jeremy Vine, Rylan Clark, Gary Lineker, and Nicky Campbell have all publicly denied that they are the presenter in question.
The broadcaster offered a relatively mute response, stating on Saturday that "we treat any allegations very seriously and we have processes in place to proactively deal with them."
The BBC's statement caused outrage in Parliament. Labour Party Shadow Chancellor Rachel Reeves declared that the corporation needs to get its "house in order" and "give greater clarity to what on earth has gone on in this case and what they're doing to try and put it right."
It is still unclear whether the BBC has contacted the police about the allegations.
You can share this story on social media: