Syria revokes BBC accreditation
Damascus has accused the British news channel of "providing politicized and misleading reports" about the situation in the country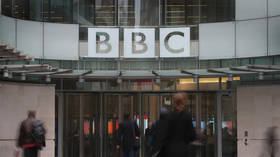 BBC journalists will no longer be able to legally work in Syria after the country's authorities revoked their accreditation. Officials in Damascus have claimed that the British news channel produced news reports on multiple occasions which provided a distorted picture of reality in the Arab country.
In a statement on Saturday, Syria's Ministry of Information alleged that the BBC "has deliberately provided, from time to time, subjective and false information" despite repeated warnings from Syrian authorities.
The ministry accused the media outlet of basing some of its reports on "statements and testimonies from terrorist and anti-Syrian parties."
The statement concluded that the BBC had failed to uphold "professional standards," insisting on "providing politicized and misleading reports" instead.
The British outlet, in turn, asserted that its journalism had been impartial and independent.
"We speak to people across the political spectrum to establish the facts," a BBC spokesperson said, adding that the channel would "continue to provide impartial news and information to our audiences across the Arabic-speaking world."
While the Syrian Ministry of Information made no mention of it in its statement, the BBC suggested that the revocation of its journalists' accreditation could be linked to a report which claimed Syrian President Bashar al-Assad's relatives were involved in the production and trade of a drug called Captagon.
Back in January, the BBC ran afoul of the authorities in India after it aired a documentary entitled 'India: The Modi Question.' The piece charted the prime minister's rise to power, with special emphasis on his policies toward India's Muslim minority. It also featured allegations that Modi, who previously served as chief minister of the state of Gujarat, failed to prevent rioting that saw hundreds of Muslims killed there back in 2002.
Ten years later, the country's supreme court cleared Modi of any wrongdoing.
Commenting on the BBC's documentary, Indian foreign ministry spokesman Arindam Bagchi described it as a "propaganda piece," highlighting a "continuing colonial mindset."
Government adviser Kanchan Gupta, in turn, characterized the series as "hostile propaganda" and "anti-India garbage," adding that New Delhi had ordered YouTube and Twitter to block the sharing of the controversial piece in India.
You can share this story on social media: