China cites 'unexpected incidents' in ties with US
Vice premier He Lifeng has admitted problems in implementing the consensus reached between Washington and Beijing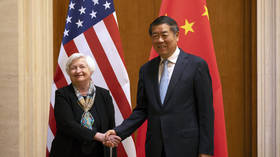 Efforts by the US and China to forge closer ties have been marred by a series of unfortunate events in recent months, Vice Premier He Lifeng admitted on Saturday. The official was apparently alluding to an incident involving a Chinese balloon that entered into US airspace this winter, raising serious security concerns among officials in Washington.
Speaking at a meeting with US Treasury Secretary Janet Yellen in Beijing, He regretted "unexpected incidents" that had undermined efforts to improve relations between the two countries following the summit between Chinese President Xi Jinping and his US counterpart Joe Biden in November 2022.
While He would not confirm which incidents he was referring to, Sino-US relations were marred by an incident when a Chinese balloon that strayed into the US airspace in early February was shot down by Washington's military. While the Pentagon has claimed that the vessel was gathering intel on America's strategic facilities, Beijing denied the accusation, claiming that it deviated off course due to "force majeure circumstances."
"There have been some problems in the implementation of the consensus reached by the two heads of state," the vice premier added, stressing the need for "a generally stable US-China relationship."
Meanwhile, Yellen pointed out that she believed that Washington and Beijing should seek a relationship of healthy economic competition that is not "winner-take-all," but rather based on a "fair set of rules" and is mutually beneficial.
She reiterated that while the US would "take targeted actions" to protect its national security that Beijing would not be particularly happy about, the two sides "should not allow that disagreement to lead to misunderstandings."
During their last meeting, Xi and Biden agreed to maintain communication and hold regular consultations, as well as to address specific issues in bilateral relations. However, the February balloon incident put a strain on Sino-US ties, with US Secretary of State Antony Blinken postponing his visit to China.
The top US diplomat did not visit Beijing until June, when he conducted negotiations with Xi. The two sides reportedly agreed to stabilize their rivalry and to prevent it from veering into a conflict.
You can share this story on social media: