French minister clashes with EU official on police brutality
Justice Commissioner Didier Reynders had earlier sounded the alarm about a "very high level of violence" in France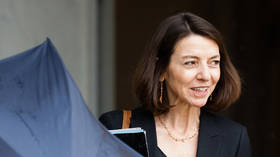 It is not up to the EU to judge how France used its police during nationwide riots sparked by the law enforcement killing of a teenager last week, the nation's State Secretary for Europe, Laurence Boone, said on Friday.
In late June, French police shot a 17-year-old of Algerian and Moroccan descent in Nanterre, triggering violent protests. In response, French authorities deployed tens of thousands of police officers and made more than 3,000 arrests.
Commenting on Wednesday, European Commissioner for Justice Didier Reynders sounded the alarm over a "very high level of violence" in France, which he said was shown not only by recent protests but also demonstrations against pension reform.
"We really need to examine it, because it's problematic, sometimes it's the behavior of a certain number of police officers. We can see it in the tragic events that have occurred," he stated, while noting that the same could be said for the behavior of protesters "who have the right to demonstrate… but not to loot stores, destroy businesses or destroy public property."
However, Boone pushed back against the criticism. In a clip of a Senate hearing uploaded on her Twitter page, the minister said that "it's not up to Didier Reynders or the European Commission to take an interest in the way France manages its police forces."
In recent months, the United Nations has on numerous occasions criticized France over its law enforcement practices. In May, the UN's Human Rights Council condemned the excessive use of force by French police, urging Paris to address "racial profiling by security forces." That charge was echoed by the UN's Human Rights Office in late June and – just recently – by the UN Committee on the Elimination of Racial Discrimination (CERD).
The French foreign ministry, however, denied the allegation, saying that "any accusation of racism or of systemic discrimination by law enforcement agencies in France is completely unfounded." It added that the use of force is governed by the principles of "absolute necessity and proportionality."
You can share this story on social media: