Moscow warns of dangers French riots present to Europe
Paris should take the growing radicalization of society seriously, the Russian Foreign Ministry has said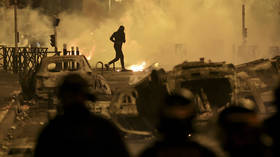 Russian Foreign Ministry spokeswoman Maria Zakharova expressed deep concern over the unprecedented spike in violence in France triggered by the police shooting of a 17-year-old man of Algerian and Moroccan descent, warning Paris against the use of any form of police brutality.
"We call on the [French] authorities to immediately establish the circumstances of the murder that stirred up France and take the necessary measures to punish the perpetrators. The situation in France must not threaten the security of our common European continent," Zakharova said at a press briefing on Thursday.
Amid the latest wave of street violence in France, Moscow condemned both the police brutality, which it believes set the stage for the violence, as well as the mayhem caused by the rioters who have looted numerous businesses and injured hundreds of officers.
"In recent years we have witnessed numerous human rights violations and cases of police brutality in France, but the murder of a 17-year-old Algerian teenager by a police officer showed the world the true extent of the problems in the country that calls itself the cradle of human rights," she added.
Zakharova said it is "hard to ignore the increasing level of xenophobia, hostility towards migrants, and manifestations of antisemitism," urging the French authorities to "take seriously the growing radicalization of society."
Zakharova separately claimed that French weapons originally supplied to Ukraine have surfaced in their country of origin, and have been used by rioters to attack police. "According to multiple media reports, neo-Nazi groups are taking direct action in the riots in France."
Paris should stop criticizing other nations on how they uphold the rule of law and focus instead on solving its own domestic problems and protecting its citizens, Zakharova said.
You can share this story on social media: