Zelensky 'dragging entire planet' to hell – Russian envoy
The West should rein in Kiev before it causes World War III, Ambassador Antonov has said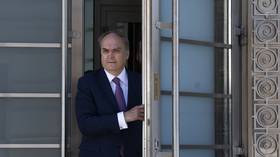 Faced with failure on the battlefield, Ukraine's president is trying to drag NATO into the conflict with a false-flag attack on Europe's largest nuclear power plant, Russia's ambassador to the US, Anatoly Antonov, said on Thursday.
"News reporters continue to pretend not to notice the obvious: from the very beginning of the special military operation, all the accusations of the Zelensky regime against us turned out to be sabotage operations of Kiev itself," Antonov told Newsweek in an email interview.
The difference now, he added, is that "this time stakes have grown substantially: Europe's nuclear security is at risk."
Zelensky has accused Russia of planting explosives at the Zaporozhye Nuclear Power Plant (ZNPP). Antonov called it "absurd" to accuse Russia of wanting to damage the facility which it has controlled since March 2022.
Kiev's "criminal intentions" divert attention from "the failed counteroffensive of the Armed Forces of Ukraine, in which the West has invested enormous resources," to falsely accuse Russia as a 'nuclear terrorist' ahead of the NATO summit, and draw the US-led bloc into the conflict directly, Antonov said.
"Western ruling elites should understand that the failures on the battlefield make Kiev eager to create a pretext for the deployment of the NATO contingent to Ukraine, thereby to inflate a regional conflict into World War III," the Russian ambassador told Newsweek.
"We call on the curators of the Kiev regime to exercise responsibility and exert influence on their 'wards' in order to avoid a large-scale catastrophe," he added. "American and European citizens are hardly ready to march in orderly rows to the hell into which the Zelensky government is dragging the entire planet."
International Atomic Energy Agency (IAEA) inspectors, who are on the ground at the ZNPP, reported on Wednesday that they have found no signs of any mines, either at the cooling pond – as Kiev initially claimed – or on the roofs of the reactor buildings.
The IAEA observer mission was deployed to the ZNPP in September 2022. Prior to that, the station and its environs had been repeatedly targeted by Ukrainian artillery, which Kiev admitted at one point. Just before the IAEA mission arrived, Ukrainian commandos also attempted to seize the facility but were driven back. Russia has provided evidence of Ukrainian attacks to the UN, which has avoided assigning blame.
You can share this story on social media: