Fire engulfs chemical plant in China (VIDEO)
The cause of the blaze remains unclear, while the personnel at the facility have been evacuated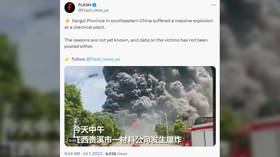 A massive fire has consumed a chemical plant in southeastern China, with videos from the scene showing thick black smoke rising from the facility. Local authorities said that there have been no casualties.
According to CCTV News, the incident took place on Saturday morning at a facility owned by a silicon production company, Jiangxi Qiantai New Material Co, in the city of Guixi in Jiangxi province.
Local emergency services are said to have scrambled to put out the fire, finally extinguishing it at about 2:30 pm local time. The plant's personnel have been evacuated, while the authorities have begun looking into what caused the incident.
A chemical plant in Guixi, East China's Jiangxi Province, exploded on Saturday, according to China Central Television. pic.twitter.com/Ez4oAsB1Cd

— Global Times (@globaltimesnews) July 1, 2023
Videos circulating on social media appeared to show a large plume of smoke dozens of meters high, with fire ravaging at least several buildings of the facility.
The fire in Jiangxi comes after an explosion in early May at a Chinese petrochemical plant owned by the Zhonghua Group in the northern part of the country claimed the lives of at least nine people.
You can share this story on social media: