Rioters loot gun store in Marseille – media
Several rifles were reportedly stolen from a weapons shop on the fourth consecutive night of the unrest across France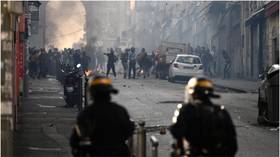 Marseille saw some of the worst violence on Friday, as rioters looted a gun shop near the Old Port district, according to French media. Paris has deployed 45,000 police, armored vehicles, and helicopters to quell the unrest sparked by the death of a young man in a police shooting.
Several "hunting weapons" were stolen from the shop on Rue d'Aubagne in Marseille before the police could intervene and post a guard outside, BFM TV reported. One person was arrested with a stolen shotgun. The rioters did not take any ammunition, reports said, citing a police source.
At least 87 people were arrested in the southern French city, where police fired tear gas at groups of masked, marauding youths who smashed shops and set vehicles on fire. The riots also caused Pride Marseille to postpone the LGBTQ event scheduled for Saturday.
Marseille Mayor Benoit Payan has asked the government to dispatch additional police units to deal with the violence and looting.
Videos circulating on social media reportedly show attacks on police precincts in Ales, Lyon, and Bonneuil, though the government has yet to officially confirm any of them.
The riots began on Tuesday night in the Paris suburb of Nanterre, after a police officer fatally shot 17-year-old Nahel M. during a traffic stop. As Nahel's mother called for "vengeance," local prosecutors quickly arrested and charged the officer who fired the shot with homicide. That did not stop the protests from becoming increasingly violent, however.
Interior Minister Gerald Darmanin said on Friday evening that a total of 917 individuals had been detained by police so far. "Their average age is 17," Darmanin said. "A third of them are minors, as young as 13." He blamed the lack of parental responsibility for the ongoing violence.
President Emmanuel Macron cut short his visit to Brussels on Friday morning to hold an emergency cabinet meeting.
The French national football team issued a statement on social media via star forward Kylian Mbappe, calling on the rioters to calm down. The squad "cannot remain indifferent to the circumstances in which this unacceptable death took place," and understands the substance of the protest, but "cannot endorse the form," the statement said.
Two French police unions have demanded a crackdown on the "wild horde" disturbing the peace, warning the government that they are currently "fighting a war" on its behalf but will turn against Paris if they are stabbed in the back by those who wish to appease the rioters.
Darmanin has deployed over 45,000 police officers and gendarmes heading into the weekend, backed by drones, helicopters, and armored vehicles.
You can share this story on social media: