Israel explains why it's against Iron Dome deliveries to Ukraine
The air defense system could fall into Iranian hands, PM Benjamin Netanyahu has claimed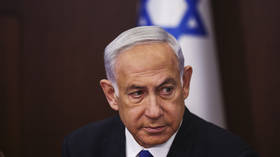 Israel is concerned that if Kiev is provided with cutting-edge Iron Dome air defense systems, the weapons could end up finding their way to Iran, Prime Minister Benjamin Netanyahu said in an interview released on Thursday.
Speaking to the Wall Street Journal, Netanyahu said that Israel has so far refrained from joining Western efforts to arm Kiev because its situation is drastically different from that of Ukraine's other backers.
The prime minister said that Israel needs "freedom of action" in Syria, a region with a heavy Russian military presence. In addition, Netanyahu noted that if Israeli weapons were captured on the battlefield in Ukraine, they could eventually be given to Iran.
"We are concerned… with the possibility that systems that we will give to Ukraine would fall into Iranian hands and could be reverse-engineered" and used against Israel, he said.
Netanyahu also said that West Jerusalem cannot allow the US to send Ukraine the Israeli-developed Iron Dome air defense system, which Israel uses to fend off missile attacks which it says are launched by Tehran-backed militant groups.
"If that system were to fall into the hands of Iran, then millions of Israelis would be left defenseless and imperiled," he stated.
On Friday, US Senators Lindsey Graham and Chris Van Hollen said that Israel had blocked the transfer of two US-owned Iron Dome systems to Kiev over "serious concerns," without elaborating further.
"We are not asking Israel to transfer its own Iron Dome systems which are critical to their own security, but simply to allow the United States to transfer our own batteries to help the people of Ukraine," the senators wrote.
While Israel has condemned Russia's military operation in Ukraine, it has not taken part in the Western sanctions on Moscow and has refrained from providing lethal aid to Kiev, focusing instead on humanitarian assistance.
Netanyahu has previously expressed concerns over the potential spillover of Israeli weapons. Last week, he said that the proliferation of weapons is "not a theoretical possibility," noting that Western anti-tank weapons destined for Ukraine had already found their way to the Middle East.
You can share this story on social media: