Biden sleeps in a mask – White House
The oldest serving US leader's health has been a focus for voters as he campaigns for re-election in 2024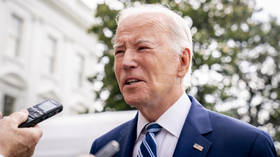 President Joe Biden is now using a continuous positive airway pressure (CPAP) machine to address his sleep apnea, the White House has said, offering clarification after he was spotted with markings on his face left by the device.
Sleep apnea is characterized by abnormal breathing patterns during sleep, which can wake patients, or in severe cases result in a dangerous lack of oxygen. CPAP machines are used to ensure the airway remains open, applying constant pressure to the upper respiratory tract through a face mask, which is attached to a small flow generator.
White House spokesman Andrew Bates confirmed Biden's use of the apparatus. "He used a CPAP machine last night, which is common for people with that history," Bates said, while another unnamed official told Reuters that Biden started using the device in recent weeks to improve his sleep quality.
The White House statement came after reporters noticed markings on Biden's face as he departed for an event in Chicago on Wednesday, appearing to suggest he had been wearing some kind of strap. Bloomberg News noted that while it represents a new medical development for the 80-year-old president, it is not linked to any new condition.
Previous White House medical reports have disclosed Biden's sleep apnea, as well as multiple prior sinus surgeries to help with congested airways. Press Secretary Karine Jean-Pierre also revealed last year that he suffers periodic coughing fits and had been diagnosed with asthma, forcing him to use an inhaler.
The president's age and health have been in the spotlight for many American voters as he vies for re-election 2024, with a recent Yahoo/YouGov survey showing that more than two-thirds of the country believe he is 'too old' to serve another term, including 48% of Democrats polled. In another survey conducted by NBC News, 70% of Americans said Biden should not be running again, with 69% citing his age as a factor.



You can share this story on social media: