'God save the Queen' – Biden (VIDEO)
The 80-year-old US leader has frequently been accused of misspeaking on the campaign trail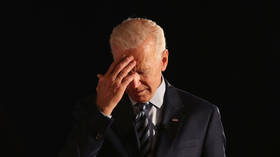 Gaffe-prone US President Joe Biden confused onlookers at the conclusion of a Friday gun control speech in Connecticut by signing-off with the phrase "God save the Queen, man."
The 80-year-old Biden spoke for around 30 minutes to a crowd of gun safety advocates during which he called on Democrats and Republicans to put aside their political rivalries to advance meaningful measures to curb firearm violence in the United States.
But while his policy speech was received well, his closing line – "Alright? God save the Queen, man" – was less so, prompting confusion in the audience at the University of Hartford, as well as on social media where the term 'God save the Queen' soon began trending.
"Several of you have asked me why he might have said that," Todd Gillman, White House correspondent for the Dallas Morning News, wrote afterwards. "I have no idea. Other poolers likewise have no idea."
Queen Elizabeth II, Britain's longest-reigning monarch, died in September 2022. Biden attended her funeral in London on September 19. 'God Save the Queen' was the title of the British national anthem during her reign. The anthem reverted to 'God Save the King' when she was succeeded by her son, King Charles III, following her death.
Biden previously used the phrase in 2017, shortly after the certification of Donald Trump as the 45th President of the United States. This, coupled with Friday's apparent gaffe, has led to speculation online that he mistook the phrase for 'God help us all'.
Following Biden's speech, deputy White House press secretary Olivia Dalton told reporters that the president was "commenting to someone in the crowd." No further clarification was offered.
Biden's age, as well as his history of misspeaking at official events, is set to become a key campaign issue ahead of the 2024 US presidential election. Indeed, Biden referenced the topic of his advancing years in the Friday speech – at one point joking that his age is "a little under 103."
As for the speech itself, Biden lamented that there is gun violence in America "every damn day" and said that, political differences aside, the US is united in its desire to be able to "drop [children] off at a house of worship, a mall, a movie, a school door without worrying that's the last time we will ever see them."
Immediately following the speech, Biden told the crowd that he would be unable to stay behind to shake hands and pose for photographs due to the imminent arrival of a storm.
You can share this story on social media: