US announces bomb sale to NATO member
Norway has asked for almost $300 million worth of Raytheon-made glide weapons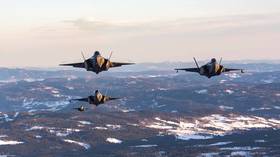 There are no obstacles to selling Norway a total of 600 glide bombs for their F-35A jets, the US State Department notified Congress on Wednesday. The total value of the contract is estimated at $293 million, and includes the munitions as well as maintenance and support.
The Defense Security Cooperation Agency (DSCA) sent out the notice as required by US law. It specified that permission was required because the government in Oslo increased the request from the original $18.9 million for 20 bombs to 580 additional munitions.
The DSCA notice described the weapon as the GBU-53/B Small Diameter Bombs-Increment II (SDB-II) All-Up-Rounds (AUR). Its manufacturer, Raytheon, uses the name 'StormBreaker'.
According to Raytheon, the bomb can use millimeter-wave radar, infrared, and semi-active laser homing to guide itself to the target, and can even operate in semi-autonomous mode. First entering service in late 2020, it is intended for use by F-15 and F/A-18 fighter-bombers, as well as F-35s, though this required a software update in 2022.
Norway has received 37 F-35s of the 52 it ordered from the US. Each plane can carry up to 24 StormBreaker bombs, eight internally and 16 on external wing mountings.
Oslo originally ordered 20 bombs in July 2022. It was unclear whether Raytheon has already produced the munitions, or how long it may take to fulfill the order.
In addition to the bombs themselves, the contract calls for instructors that will teach the Royal Norwegian Air Force how to load the weapons and engage in explosive ordnance disposal; various support and maintenance equipment, spare parts, consumables and accessories, as well as support for repair, return, modification, and maintenance.
The value of the contract is a high estimate and the actual amount is likely to be lower "if and when" the sales agreement is actually concluded, according to the DSCA notice.

You can share this story on social media: