Scotland to seek EU reunion – first minister
The country voted overwhelmingly to remain in the bloc in the 2016 Brexit referendum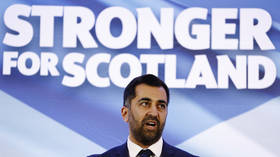 Scotland will move to rejoin the European Union should it secure independence from the United Kingdom, First Minister Humza Yousaf has declared in an interview.
The country voted to remain within the ranks of the UK in a 2014 referendum but, faced with the realities of post-Brexit Britain, Scots have a renewed vigor to sever ties with London and look towards Brussels as Edinburgh navigates its political future, Yousaf said.
"62% of Scotland voted to stay within the European Union in 2016," Yousaf told Politico in comments published on Wednesday. "But unfortunately we have been taken out of the EU."
Yousaf was thrust into leadership of the top Scottish National Party (SNP) following Nicola Sturgeon's sudden departure as first minister earlier this year. He has made clear his desire to bolster support for a second Scottish independence referendum.
While there is an appetite among many Scots to hold a second independence vote in less than a decade, any move to do so requires London's approval, which is not forthcoming.
"If people in 2014 had known what would happen in 2016 [Brexit], I have no doubt that people would have voted for Scotland to become an independent country," Yousaf told the publication.
Political will for independence from the United Kingdom has been complicated by a police probe into the SNP finances, which saw Sturgeon and her husband Peter Murrell, a former chief executive of the political party, arrested in recent weeks. Both were released without charge, but the ongoing investigation has contributed to a ten-point drop in support for the party.
While Yousaf acknowledges the difficulties the SNP faces as a result, he maintains this is a separate issue from the drive for independence. Support to leave the United Kingdom is "rock solid," he told Politico. "I'm not sure there's any other country that has been part of the European Union for as long as we have, been taken out against our will, and then is looking to rejoin."
Several hurdles remain for Scotland – not least of which being Spain's opposition to Edinburgh's desired reunion because of potential implications in its own independence argument with Catalonia – but Yousaf points to his country's clean-energy industry as being a potential ace in their pocket.
"Scotland has a lot to offer," he said. "Why would you not want a country that has the renewable potential that we do?"
You can share this story on social media: