Ex-Scottish leader arrested in corruption probe
Nicola Sturgeon quit as first minister and Scottish National Party leader in April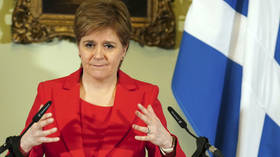 Former Scottish first minister Nicola Sturgeon was arrested on Sunday as part of an ongoing investigation into allegations of financial misconduct by the Scottish National Party (SNP).
"A 52-year-old woman has today, Sunday, June 11, been arrested as a suspect in connection with the ongoing investigation into the funding and finances of the Scottish National Party," a Police Scotland statement said. It added that the suspect remains in custody and is being questioned by officers.
A spokesperson for Sturgeon later confirmed that she had been arrested and was cooperating with the investigation.
"Nicola Sturgeon has today, Sunday, June 11, by arrangement with Police Scotland, attended an interview where she was to be arrested and questioned in relation to Operation Branchform," the statement read.
"Nicola has consistently said she would cooperate with the investigation if asked and continues to do so."
After being held for more than seven hours, and questioned by the detectives, Sturgeon was released "without charge pending further investigation," according to Police Scotland.
The former first minister's husband Peter Murrell, a former chief executive of the Scottish National Party, was arrested in April – the same month that Sturgeon quit her position as first minister and SNP leader, after announcing her resignation in February.
Sunday's arrest is the third as part of Police Scotland's 'Operation Branchform', an investigation into claims that £600,000 ($754,000) in political donations from supporters intended to be spent in a campaign to promote independence from London was misspent by the SNP.
Party treasurer Colin Beattie was also arrested as part of the enquiry in April. He was released without charge.
Police had previously searched the home that Sturgeon and Murrell share, as well as the SNP headquarters, where they confiscated documents and electronic devices under warrant.
Police Scotland added in its Sunday statement that "a report will be sent to the Crown Office and Procurator Fiscal Service," and that the "matter is active for the purposes of the Contempt of Court Act 1981 and the public are therefore advised to exercise caution if discussing it on social media."
You can share this story on social media: