Support for US in Israel reaches 20-year high – poll
Nearly 90% of Israelis have a favorable view of longtime ally Washington, a survey finds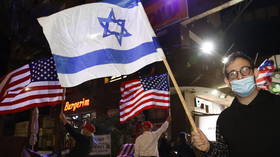 Public support for the US among Israelis has reached a two-decade high, according to a new survey of residents in 23 nations. While backing for Washington has generally declined across Europe, Poland remains an exception and demonstrates the highest level of support.
Asked about their views toward the US for a Pew survey published on Tuesday, 87% of Israelis polled said their opinion was generally favorable, with just 12% responding in the negative. That figure is the highest since Pew started conducting the survey in Israel in 2003, with ratings steadily creeping upward.
The US has long maintained close ties with Israel, with former Secretary of State Alexander Haig once likening the country to an "American aircraft carrier in the world that cannot be sunk." It continues to receive billions of dollars in US aid annually, much of it spent on military hardware.
Though President Joe Biden has been less vocal in his support for Israel, his predecessor Donald Trump was a strong advocate for the Jewish State. In 2018, he agreed to move the US embassy from Tel Aviv to Jerusalem, in line with Israel's disputed claim to the city as its capital. He later recognized its claims over the Golan Heights, despite repeated objections from Syria.
The only country with a higher rating for the US than Israel was Poland, where 93% of residents told Pew that their opinions were favorable, compared to just 4% unfavorable. South Korea, Nigeria and Kenya were also high on the list, with 79%, 74% and 71% favorability ratings respectively.
However, of the 10 European countries included in the survey, only Poland and Greece reported higher ratings this year than in 2022, suggesting a general decline in opinion over the last 12 months. Hungary, which keeps closer ties with Russia, came in with the lowest rating at just 44% favorable, a drop of 11 percentage points since last year. A slim majority of Hungarians, 51%, said their view was not favorable.
Several close US allies had some of the lowest ratings of the survey, with only 52% of Australians saying their view of the US was favorable. Canada had a slightly better figure at 57%, while just 55% of Swedes agreed with that view.
Overall, 82% of those surveyed in all 23 nations said the United States "[interferes] in the affairs of other countries," though 61% also stated that Washington contributes to "peace and stability around the world." Respondents were nearly split on whether US officials "take into account the interests of other countries," with 49% saying they do and 50% answering no.
You can share this story on social media: