Ukraine peace talks to begin in July – German state media
ARD claims an unofficial international meeting aimed at ending the conflict has already taken place in Copenhagen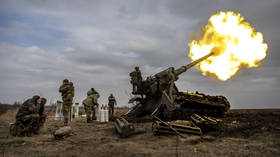 Peace negotiations on the Ukraine conflict could begin as early as next month, German state-TV channel ARD has claimed. According to the broadcaster, senior officials from a number of global powers held a meeting last week in the Danish capital Copenhagen to discuss the issue.
ARD reported on Sunday that US National Security Advisor Jake Sullivan was among the dignitaries present at the event. According to the broadcaster, the main objective of the gathering was to secure the support of 'neutral' countries such as China, India, Brazil and South Africa.
The high-ranking meeting represented a major step forward toward actual peace negotiations, ARD claimed. Citing its Brussels bureau, it added that talks could get underway as early as July.
Last Thursday, the Financial Times reported that Sullivan, along with high-ranking State Department official Victoria Nuland, would head a "diplomatic offensive" at Ukraine's request. Their purported objective was to convince powers from the 'Global South' to scale back their relations with Russia.
However, the officials were not confident of succeeding, the FT claimed. The newspaper quoted an anonymous European official as acknowledging that the "rest of the world is not convinced" by the West's stance.
Brazil, India, China and South Africa are all members of BRICS – an economic bloc that counts Russia as its fifth member. They have all refused to toe the Western line and impose sanctions on Moscow over its actions during the conflict with Ukraine.
Meanwhile, taking to Facebook on Sunday, the head of Ukraine's National Security and Defense Council, Aleksey Danilov, wrote that he would not rule out Belarusian President Alexander Lukashenko's participation in future peace talks involving Russia.
The comment followed Lukashenko's mediation between the Russian government and PMC Wagner's chief Evgeny Prighozhin, amid a failed coup attempt on Saturday.
Brazilian President Luiz Inacio Lula da Silva, for his part, on Thursday urged both Kiev and Moscow to compromise and engage in peace negotiations. He also suggested that parties not involved in the ongoing conflict would be best suited to mediate between the two belligerents.
Russia has repeatedly blamed Ukraine for a lack of peace talks, citing a decree signed last year by President Vladimir Zelensky that prohibits talks for as long as his Russian counterpart, Vladimir Putin, remains in power.
Kiev, in turn, put forth its own peace plan, which demands that Russia first withdraw its troops from all the territories within Ukraine's 1991 borders.
Moscow has rejected the proposal, calling it detached from reality.
You can share this story on social media: