Ukraine failed to exploit Wagner coup attempt – NYT
No Russian units left their frontline positions during the mutiny, according to the newspaper, citing unnamed US officials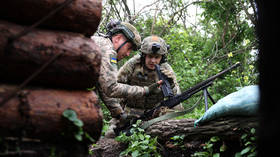 Ukraine was unable to capitalize on the coup attempt in Russia by the Wagner private military company, the New York Times has claimed, citing unnamed US officials. US Secretary of State Antony Blinken had earlier suggested that the events had created potential "openings" for Kiev to improve its position on the battlefield.
In a report on Sunday, the NYT quoted anonymous "American officials and independent analysts" as acknowledging that "there did not seem to be any immediate defensive gaps to exploit" in Russian lines. The article noted that, "according to a preliminary analysis," no Russian units in eastern and southern Ukraine abandoned their positions on Friday or Saturday as the attempted insurrection was in full swing.
It went on to emphasize that on Saturday alone, Russian forces reportedly fired some 50 missiles at various targets across Ukraine.
American officials cited by the paper predicted that, at least in the short term, the "front lines in Ukraine are likely to remain unchanged."
The NYT added, however, that Ukraine is still likely to attempt to use the "chaos caused by Mr. Prigozhin" to its advantage.
The article suggested that supposedly "weakening morale" among Russian troops could be one of the factors that potentially helps Kiev make gains.
The paper concluded, however, that "it is too soon to determine the long-term implications" of the failed coup attempt.
Speaking to CBS News on Sunday, Blinken described Wagner's attempted rebellion as a "direct challenge to Putin's authority," arguing that it "raises profound questions" and "shows real cracks."
The diplomat went on to claim that this "creates even greater openings for the Ukrainians to do well on the ground." Blinken suggested that Wagner's actions had created a "real distraction" for the Russian leadership, who will now have to "sort of mind their rear."
Blinken's assessment appeared to echo that of other top US officials, as reported by Politico on Sunday.
Wagner rebelled on Friday against Russia's military leadership. The head of the private military company, Evgeny Prigozhin, agreed to end the uprising and withdraw his forces in exchange for "security guarantees," as part of a deal brokered by Belarusian President Alexander Lukashenko on Saturday.
The same day, the Russian Defense Ministry reported that Ukrainian troops had mounted several attacks, which it claimed had all been repelled.
You can share this story on social media: